April 8 - April 15
As summer approaches more and more Asian movies are hitting the screens. Is it the weather? A strange alignment of the stars? Whatever it is, it's fabulous to be away from dreary February when not a single Asian film was in general release.
COMING SOON
Subway Cinema's New York Asian Film Festival (that's us!) is running from June 18-27 at the Anthology Film Archives (32 Second Avenue, at Second Street). Keep your eyes on our fancy new website for more details as we get them.
The Tribeca Film Festival has just announced their Asian line-up and we were surprised to see how few films are from Asia. In fact, between the Phillipinnes, Thailand, China, India, Japan, Korea, Singapore and Malaysia they have programmed nine movies. Given that they've programmed 9 movies from France, and 7 from South Africa, I just don't know what this means. The end of the world? To check out their schedule, go to:
http://www.tribecafilmfestival.org/opencms/opencms/tff/home.jsp
Although our New York Asian Film Festival isn't completely booked yet, we thought we'd give you a rundown of the titles we do have confirmed so far, just so you know that there's still hope to see good Asian movies this summer:
HERO (China, 2002, New York Premiere) - Zhang Yimou's molten, martial arts tone poem stars Jet Li, Tony Leung, Maggie Cheung, Zhang Ziyi and Donnie Yen. Wong Kar-wai's Chris Doyle shot it, and Tan Dun and Itzhak Perlman did the music. Opens theatrically in August, 2004.
RUNNING ON KARMA (Hong Kong, 2003, New York Premiere) - This "whatzit" from director Johnnie To (The Mission, Fulltime Killer) is a martial arts comedy/romance/police thriller that becomes a Buddhist plea for an end to all violence after churning viewers' brains into soft, red mush. Hong Kong's sleeper hit of 2003 it stars popstar Andy Lau as a bodybuilding, fallen-from-grace monk who can see people's karma. Meditate upon Andy Lau in a giant, latex muscle suit and achieve enlightenment. Om...

INFERNAL AFFAIRS (Hong Kong, 2002) - all set for a US theatrical release in September, 2004, IA is slick and stylish and probably the best crime thriller in years. This is the kind of high-powered big screen entertainment you've been dying for all year. Brad Pitt is currently filming the remake, but come and see the original. If you've seen it already, drag your friends along and see it again. It only gets better.
ANTENNA (Japan, 2003, US Premiere) - whoa. A little girl goes missing and her family goes to seed. Her older brother is a catatonic wreck who goes to a dominatrix to recover his repressed memories. Her younger brother is a spaz who takes over her identity. Her mother joins a cult and becomes a smiling demon who blights everyone she touches. Then a camera crew shows up to film the story of the disappearance and things go to maximum insane. I dunno... it features some of the most intense scenes of masturbation you'll ever see, and I think that's a good thing.
VIBRATOR (Japan, 2003, New York Premiere) - art films from Japan are a dime a dozen, but this off-the-cuff flick sneaks up on you while you're watching and wraps you in a blanket of guarded optimism for the whole stinking human race. A bulimic, alcoholic freelance writer hooks up with a truck driver (Nao Omori, who was Ichi the Killer in Takashi Miike's ICHI THE KILLER) at a convenience store and the two hit the road a few minutes later. Hesitantly transcendent, it's been hailed by most critics as the best Japanese film of the year.
AZUMI (Japan, 2003, New York Premiere) - If this were a fairy tale, it would certainly be Grimm. Full of guts and grue, with enough moral weight to keep its flights of fancy grounded, AZUMI is slathered in feedback and awash in camera pyrotechnics. The brittle irony of Quentin Tarantino's KILL BILL don't stand a chance against the volcanic emotions of Ryuhei Kitamura's (VERSUS) rock n'roll samurai flick. I had mixed feelings about VERSUS -- it was really well-made and fun to watch, but very, very thin. Kitamura addresses that concern with a vengeance, fattening up his latest movie on bloody emotions, broken hearts, and shattered innocence.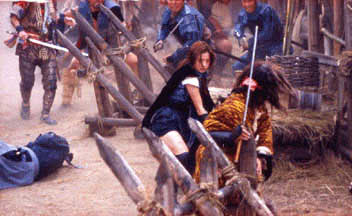 JUON (Japan, 2002) - if you thought THE RING was scary, please don't see this movie. We can't afford to cart your stiff corpse out of the theater after you die of fright. Director Shimizu is already shooting his Hollywood remake of JUON under the auspices of Sam Raimi's (EVIL DEAD, SPIDERMAN) production company with Sarah Michelle Gellar and a bunch of other Hollywood actors. But here's a chance to drag your friends to see the original before it gets a theatrical release in July, 2004.
JUON 2 (Japan, 2003, North American Premiere) - addressing the problems of the first film by beefing up the story and trying for a slightly more linear point of view, JUON 2 isn't as wholly scary as the first JUON, but it comes pretty close. Some of the setpieces contain THE most horrifying images of 2003, and pregnant women are advised to just stay away and forget they ever heard about this movie.
DRIVE (Japan, 2002, US Premiere) - Director/writer/actor Sabu has made genre-defying movies that can only be described as "Sabu films". But with DRIVE he's finally crossed over. Putting the "dead" back in "deadpan", DRIVE comes at you with humor as dry as a mouthful of sand. Like David Lynch directing a Buster Keaton comedy, only with more swords.
DOPPELGANGER (Japan, 2003, New York Premiere) - Kiyoshi Kurosawa (PULSE, CURE) takes the concept of the doppelganger and explodes it all over the audience with a delightfully dark, gleeful splootch! Long-time Kurosawa regular, Koji Yakusho (CURE, PULSE, SHALL WE DANCE?) plays a stressed-out medical technician working on a robot chair for the disabled. Before you can say "As the World Turns" his evil doppelganger shows up and starts ruining everything in that oh-so-satisfying way that only an evil twin is fully capable of. A delightfully off-beat psycho-thriller, it's a season's worth of Twilight Zone in a single film!
WHEN THE LAST SWORD IS DRAWN (Japan, 2003, US Premiere) - Shochiku's box office champ, with a score by Joe Hisaishi, explores the same territory as TWILIGHT SAMURAI, only on a more epic scale. A rural samurai joins the Shinsen-Gumi, an elite force designed to protect the emperor. He's poor, dirty, and he doesn't have a deathwish, so instantly, he doesn't fit in. But over the years, as the political winds change, as guns begin to cut down the samurai, and as the world becomes a colder place, he manages to survive with all the tenacity of a cockroach. This is the kind of period epic that we all thought Japan couldn't afford to make anymore.
SIDEBAR:
FIGHT, ZATOICHI. FIGHT! - we're mega-pleased to bring three of the classic ZATOICHI releases to the big screen in honor of their upcoming US video release. ZATOICHI 3, 4 and 5 are full of sardonic humor, heart-squeezing drama, and white-knuckled samurai slashing. Shintaro Katsu is Zatoichi, a blind masseuse who roams Japan, aligning spines for a living, and beating down bastards when backed into a corner. Zatoichi is the ultimate anti-hero in a world that's growing softer and cuddlier by the day, and now that Takeshi Kitano has released his ZATOISHI in 2004 we thought it made perfect sense to honor the original with a selection of Zatoichi movies that Playboy calls "infectious fun", and we call "bad-ass".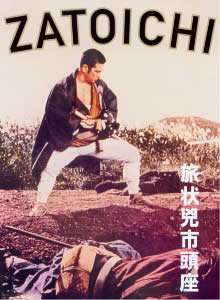 And trust me when I say: there's more to come.
STRIKE A BLOW FOR MOTION PICTURE FREEDOM! COME TO THE NEW YORK ASIAN FILM FESTIVAL!
ALSO COMING SOON
The Landmark Sunshine is advertising TWILIGHT SAMURAI, Japan's submission for Best Foreign Film at the Oscars this year.
NOW PLAYING:
In General Release:
SHAOLIN SOCCER (2002, Hong Kong, 87 minutes)
at the Landmark Sunshine
SPRING, SUMMER, FALL, WINTER...AND SPRING (2003, Korea, 103 minutes)
Friday, March 26 @ 7PM
Korea's bad boy director, Kim Ki-Duk (THE ISLE) returns with an atypically quiet film, shimmering with Buddhist calm. Highly acclaimed, the flick shows the passing of the four seasons at a floating Buddhist monastery. Sony Pictures Classics is releasing the film at Lincoln Plaza Cinemas (Broadway, between 62 and 63 Streets) and the Angelika Film Center.
Read reviews at:
http://www.mrqe.com/lookup?spring+summer+fall+winter+and+spring
Visit the movie's website at:
www.springsummermovie.com
American Museum of the Moving Image
CINEMA INDIA! SHOWCASE 2004 FILM SERIES
This touring Indian film series starts off at the Asia Society, and then moves to the AMMI for the following screenings (full description of program is in the listing for the ASIA SOCIETY).
MAQBOOL (2003, India, 132 minutes)
Friday, April 23 @ 7:30PM
American Museum of the Moving Image
A highly-acclaimed Bollywood style retelling of Macbeth. Also starring Tabu.
THE SPEAKING HAND: ZAKIR HUSSAIN AND THE ART OF THE INDIAN DRUM (2003, India, 104 minutes)
Friday, April 30 @ 7:30PM
American Museum of the Moving Image
A documentary about legendary tabla player Zakir Hussain.
DILWALE DULHANIYA, LE JAYENGE (1995, India, 189 minutes)
Friday, May 14 @ 7:30PM
American Museum of the Moving Image
One of India's biggest hits, this musical may seem a little corny to Westerners, but it's as beloved by many Indians as The Sound of Music. Westernized kids and their traditional parents butt heads in this movie that's run almost non-stop since it was first released. It made Shahrukh Khan and Kajol the two biggest stars in Bollywood.
KANDUKONDAIN, KANDUKONDAIN/I HAVE FOUND IT (2000, India, 150 minutes)
Saturday, April 17 @ 5:30PM
American Museum of the Moving Image
A dazzling Bollywood version of Sense and Sensibility with music from A.R. Rahman and the stunning looks of Aishwarya Rai - often called " the most beautiful woman in the world" and since she won Miss Universe she can prove it!
WAISA BHI HOTA HAI/ANYTHING CAN HAPPEN (2003, India 138 minutes)
Saturday, April 17 @ 2:30PM
American Museum of the Moving Image
BARIWALI/THE LADY OF THE HOUSE (1999, India, 150 minutes)
Friday, April 16 @ 7:30PM (preceded by a 6:30PM reception)
American Museum of the Moving Image
SPECIAL SCREENING:
RED TROUSERS (2003, Hong Kong, 93 minutes)
April 16 @ 7:30PM
"From Robin Shou of Mortal Kombat" roars the tagline. This documentary about Hong Kong stuntmen has received mixed notices across the board, but should prove of great interest to fans of HK action. The film combines stunt footage, interviews, and a sci-fi action film being used as a demo reel to show how stunts are stunted.
More info:
www.redtrousers.com
Anthology Film Archives
A FILM WEEKEND WITH KIYOSHI KUROSAWA
April 10 @ 1PM - 5PM
April 11 @ 2PM - 6PM
A retrospective of Japan's arthouse horror king's less-seen work. Director Kurosawa will attend on the 11th and he'll ANSWER YOUR QUESTIONS! Here's your chance to ask him what the hell some of his movies mean. I'm sure you'll get a strange and polite answer.
APRIL 10
SERPENT'S PATH (1997, Japan, 85 minutes)
EYE OF THE SPIDER (1998, Japan, 83 minutes)
APRIL 11
SUIT YOURSELF OR SHOOT YOURSELF: THE HERO (1997, Japan, 83 minutes)
THE REVENGE - THE SCAR THAT NEVER FADES
Best of all, this whole event is FREE!!! That's right...FREE!!!
RSVP to:
cas.eas.undergraduate@nyu.edu
or:
212-998-7620
Asia Society
AUTUMN'S FINAL COUNTRY (India, 2003, 66 minutes)
Wednesday, April 14 @ 6:30PM
A digital video documentary put together as a testimonial for the South Asia Court of Women in 2003, this is a feel-bad movie about four Jammu and Kashmiri women and the big baskets full of grief they're saddled with. Each has been displaced by war, and that's just the beginning of their woe. Filmmaker Sonia Jabbar will be present and will lead a discussion afterwards.
In English and Hindi, with English subtitles.
$5 students; $7 members; $10 nonmembers
For tickets, call Box Office: (212) 517-ASIA
CINEMA INDIA! SHOWCASE 2004 FILM SERIES
Friday, April 16 and Saturday, April 17
A touring Indian film series arrives at the Asia Society before expanding its line-up and moving to the American Museum of the Moving Image later this month. A panel discussion on Indian film will take place on April 17th at Noon. Participants will be:
Mira Nair (Monsoon Wedding)
the curator of the series, Radha Welt Vatsal
Kiron Kher (actor in Bariwali)
Shashanka Ghosh (director of Anything Can Happen)
Vishal Bharadwai (director of Maqbool)
and it'll be moderated by Prem Panicker (the well-named editor of India Abroad) and Greg Winter (New York Times).
All Cinema India! (love that exclamation point!) events cost $10 for general riff raff, $7 for Asia Society members, and $5 for students.
Call 212-517-ASIA for advance tickets.
BARIWALI/THE LADY OF THE HOUSE (1999, India, 150 minutes)
Friday, April 16 @ 7:30PM (preceded by a 6:30PM reception)
Asia Society
Arthouse film about a lonely, middle-aged spinster (aren't they all?) who rents her home to a film crew with "devastating consequences".
WAISA BHI HOTA HAI/ANYTHING CAN HAPPEN (2003, India 138 minutes)
Saturday, April 17 @ 2:30PM
Asia Society
An advertising man saves a hitman's life and causes the downfall of Bombay's top gang lords. Sporting "idiosyncratic" characters and subplots, this is Ghosh's first feature. Previously he helped launch MTV and Channel V in India.
KANDUKONDAIN, KANDUKONDAIN/I HAVE FOUND IT (2000, India, 150 minutes)
Saturday, April 17 @ 5:30PM
Asia Society
This South Indian film sets Jane Austen's Sense and Sensibility in India. Don't know much about this one, but with Aishwarya Rai and Tabu starring and music by genius A.R. Rahman, it's probably worth watching.
Broadway Theater (Broadway and 53rd)
The hit British musical, BOMBAY DREAMS, is currently in previews, gearing up for its April 29th opening. By Andrew Lloyd Weber, and with music by Indian composer genius, A.R. Rahman, it's the long-awaited South Indian invasion of the Great White Way.
Ticket info:
212-239-6200
Columbia University
GODZILLA CONQUERS THE GLOBE: Japanese Movie Monsters in International Film Art
C.V. Starr East Asian Library
A big exhibition of GODZILLA film materials from around the globe. For exhibit times and how to get to the library and find the exhibit (it seems to be in two different areas) please go to the website listed below. Check out the website anyways, because if you can ignore the goofy picture of Godzilla (who looks more like the Loch Ness Monster here) you can also see a map and a case by case listing of every single object in the exhibit. What I want to know is: who's the nut at Columbia who put this on? And how do I give him a medal?
more info:
http://www.columbia.edu/cu/ealac/dkc/calendar/godzilla/
Japan Society
Hotel Hibiscus (2002, Japan, 92 minutes)
Friday, April 9 @ 6:30PM
Okinawa is the little-known tropical underside of Japan. Musically, it's the Mississippi Delta of the country, with its own yelping, earthy brand of rock. It's got its own dialect, and at times seems like its own country. This light comedy (part of the Japan Society's "From Manga to Eiga" series) focuses on a hotel in Okinawa run by a full-to-overflowing family where most of the kids have different fathers. It looks like a sunny-side-up, sentimental comedy.
More info:
http://www.japansociety.org/events/event_detail.cfm?id_event=869496041&id_performance=1020737061
Landmark Sunshine Cinema
SHAOLIN SOCCER (2002, Hong Kong, 87 minutes!?!)
check theater listings for showtimes
Stephen Chiau's comic masterpiece is released by Miramax after dozens of delays. The ads paint it as a straight-up chop socky flick, but this is one of the funniest movies ever made and Chiau makes his bid for comic immortality with this deadpan, absurd heroic ballad of a film.
more info:
http://www.metacritic.com/film/titles/shaolinsoccer/
Museum of Sex (233 Fifth Avenue @ 27th Street)
SEX AMONG THE LOTUS: 2500 YEARS OF CHINESE EROTIC OBSESSION
Opens March 18, 2004
I don't know if I'd call it obsession (that's a little pejorative) but there's a long tradition of Chinese erotica and this exhibition has got it all on smutty display: from dirty Bronze Age tomb tiles, to the last skin mags. Better yet, it's sponsored by Tiger Beer, which is kind of cool. Do you see Anheuser-Busch sponsoring displays of American pornography? Uh, I mean, erotica? It's especially heartening to see this exhibit open on the heels of Hong Kong Penthouse magazine closing up in March 2004.
Tickets are $14.50 (plus tax) and $13.50 (plus tax) for students and seniors.
info: (212) 689-6337
Tix: (866) 667-3984
more info (Internet Explorer only):
http://museumofsex.com/exhibitions/lotus/index.html
Opaline (82 Avenue A)
ZATOICHI 26 (1989, Japan, )
Saturday, April 17 @ 6PM
Two club nights featuring screenings of the final ZATOICHI film from the original series, directed by and starring Zatoichi himself, Shintaro Katsu, in his last performance.
At 8:30PM there'll be music by New Years, In Spite Of, The Corporation, and other bands with names that sound pretty much like that.
The event will originate in New Jersey on April 16 @ 6PM at the Art House (32-34 Newark Street, Hoboken, NJ)
RSVP for either night to:
201 795-1878
For more information, please contact:
John Vargas @ 201-795-1878 or johnv@fmfb.net
Tribeca Grand Hotel (2 Avenue of the Americas @ White Street)
2009 LOST MEMORIES (2002, Korea)
April 15th @ 7 & 9PM
This Korean alternative history/sci-fi flick serves up a kooky parallel universe where Korea is still a Japanese colony. Larded with slo-mo bullet ballets and CGI this movie did very well at the box office in Korea when it was released. New York-Tokyo is holding a FREE screening of this movie in the posh screening room of the Tribeca Grand Hotel.
RSVP to:
film@newyork-tokyo.com
read a review at:
http://www.koreanfilm.org/kfilm02.html#lostmem
*Special Programs*
Iona Rozeal Brown
Through June 13th @ Wadsworth Atheneum Museum of Art, Hartford, CT
Brown's disturbing artwork parodies the Japanese craze for African-American culture known as ganguro. How does she parody it? She does paintings that look like 17th Century Japanese woodblocks prints...but in blackface. It's kind of interesting and kind of creepy.
Links
Archives

This is really, really simple, but - as a service to those who like their hand held - we're gonna spell it out...


TO BE NOTIFIED OF UPDATES TO THIS SITE (approx. once per week)

1) Print this page and then Click Here. This will take you to a new page.


2) Enter you email address in the space designated and click ENTER or OK or GO or whatever
the heck the button on that page says.


3) This should result in two things happening.

First, your browser should change to a message reading:

"Thank you! You will receive an email shortly with instructions on how to confirm
and complete your subscription. You will not be subscribed until you click on
the link in that email. Thanks!"

Secondly, as stated above, you should receive an email in your inbox.
It will be from the following address: listapp-subscribe-bounce@www.server.com


4) Open that email and click on the link within (or cut and paste the listed URL into your browser).


5) This will result in your browser opening to the following message:
"Success! You should begin receiving your weekly Subway Cinema News shortly!"


6) That's it!



© 2000-2005 Subway Cinema. All Rights Reserved.