December 1 - 8, 2005
HIGHLIGHT OF THE WEEK:
House of Fury (2005) at ImaginAsian.
This lightweight Hong Kong action film is lots of fun if approached as popcorn entertainment. It's about a family that practices kung fu over the dinner table and they have to go against a bald headed wheelchair bound villain and his legion of minions. It stars the Twins.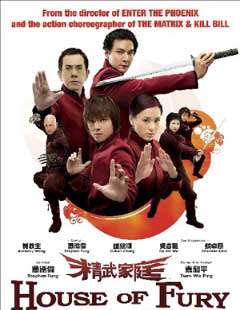 COMING SOON
ELECTRIC SHADOWS (Dec. 16 @ ImaginAsian)
This lush, multi-generational saga from China about loving movies is a lot better than it sounds.
Read a review:
http://www.subwaycinema.com/frames/nyaff05-electric.htm
INITIAL D (December 30 @ ImaginAsian)
This summer's biggest comic book hit all over Asia is a car racing movie that sucked money out of pockets faster than a speeding Mazda.
Read a review:
http://www.kaijushakedown.com/2005/08/initial_d_revie.html
EK AJNABEE (Dec. 9)
One of Bollywood's last big movies of the year looks like a doozy: starring Amitabh Bachchan in a riff on MAN ON FIRE (burnt-out bodyguard kills thousands while protecting innocence of little girl), shot in Bangkok and with action by Seng, a Thai stunt choreographer who did the tuk tuk chase in ONG BAK and did stunts in BORN TO FIGHT, the eye popping action flick from Panna Ritthikria, Tony Jaa's mentor.
See the trailer:
http://www.ekajnabee.com/flash.htm
NOW PLAYING
BAM
HARDBOILED AND IN THE MOOD: TONY LEUNG RETROSPECTIVE
December 1 - 18 at BAM
Little Tony (Tony Leung Chiu-wai) gets a retro in Brooklyn of all places. The line-up is pretty extensive, from his artsy movies (CITY OF SADNESS, FLOWERS OF SHANGHAI and CYCLO) to his rarities (MAGIC CRANE, TOKYO RAIDERS) and the stuff that made him a super-stud like HARDBOILED, and a Wong Kar-wai triple feature with HAPPY TOGETHER, IN THE MOOD FOR LOVE and 2046 all in one day). Unfortunately, the wonderful Wong Kar-wai parody CHINESE ODYSSEY 2002 is in Mandarin (so Tony is dubbed) and is cut a bit - but the bit is a great musical number between Tony and Faye Wong.
more info:
http://www.bam.org/film/series.aspx?id=52
IFC Center
PULSE (2001, Japan)
This is Kiyoshi Kurosawa's most accessible flick, and my personal favorite horror movie of his. It also happens to be one of the best Japanese horror movies ever made. If you're tired of dead wet girls with long black hair then this one's for you. It's all about how using the internet is exactly the wrong thing to do if you're worried about accidentally opening up a hole into hell and letting all the ghosts of lonely dead people out to invade the world of the living and spark an apocalyptic wave of mass suicides.
read a review:
http://www.midnighteye.com/reviews/kairo.shtml
ImaginAsian Theater
(239 East 59th Street, btwn 2nd and 3rd Ave)
HOUSE OF FURY (2005, Hong Kong, 102 minutes)
Starts Friday
You could do a lot worse than to check out this hi-tech, super-sassy, hardcore action pic from Hong Kong. Fan favorite, Anthony Wong, plays a lame dad who turns out to be a secret kung fu agent. Starring The Twins, Nic Tse, the oddly appealing Michael Wong, this is like SPY KIDS meets ENTER THE DRAGON. Turn off your brain, sit back, open your head and say "Ah!"
read a review:
http://www.lovehkfilm.com/reviews_2/house_of_fury.htm
JOURNEY TO THE WESTERN XIA EMPIRE (1997, China, 110 minutes)
Saturday, December 3 @ noon
A period film from China about soldiers stealing kids to join the army and one mom's struggle to get her child back.
read a review:
http://www.lovehkfilm.com/reviews_2/house_of_fury.htm
SWORDSMAN IN DOUBLE FLAG TOWN (1990, China, 90 minutes)
Sunday, December 4 @ noon
An "Eastern Western" full of thundering horsemen, steely swords and lots of flags. From the director of WARRIORS OF HEAVEN AND EARTH.
Japan Society
HIROSHI SUGIMOTO FILM SERIES (Nov. 11 - Dec. 11)
Japanese visual artist Hiroshi Sugimoto lands at the Japan Society and programs any old thing that grabs his fancy. But what grabs his fancy are visually dazzling flicks like Suzuki Seijun's TOKYO DRIFTER, the S&M-esque odyssey BLIND BEAST, and Kenji Mizoguchi's silent THE WATER MAGICIAN.
more info:
http://www.japansociety.org/events/category.cfm?id_category=1
This week:
THE WATER MAGICIAN (1933, Japan, 110 minutes)
Friday, December 2 @ 7:30pm
A very early silent movie from master Kenji Mizoguchi, released the same year Japan withdrew from the League of Nations after expanding into Manchuria. Suffused with nostalgia, it shows you what's on the mind of a nation on the cusp of war. With live music by Kenta Nagai and concluding narration from curator Hiroshi Sugimoto.
read more:
http://www.japansociety.org/events/event_detail.cfm?id_event=1710893194&id_performance=1525712371
THE WORLD OF GEISHA (1973, Japan, 72 minutes)
Sunday, December 4 @ 2pm and Sunday, December 11 @ 4pm
Directed by Tatsumi Kumashiro, the king of the Roman-porno genre, this is a sense-shattering slice of sizzling Seventies slink.
read more:
http://www.japansociety.org/events/event_detail.cfm?id_event=711186158&id_performance=1554880725
TEN DARK WOMEN (1961, Japan, 105 minutes)
Sunday December 4 @ 3:30pm and Sunday, December 11 @ 2pm
Ten women in a fast-paced TV station (back when all programming was live) fight over one Romeo. Visually sharp and head-spinningly fast.
read more:
http://www.japansociety.org/events/event_detail.cfm?id_event=1893222935&id_performance=1300057824
Korean Cultural Service
The Korean Cultural Service presents monthly video projections of independent and mainstream movies.
INNOCENT STEPS (2005, Korea)
Thursday, December 15 @ 6:30pm
A Chinese-Korean ballet dancer with no experience competes in Seoul! It stars the adorable Moon Geun-yeoung from The Tale of Two Sisters and My Little Bride.
more info:
http://us.yesasia.com/en/PrdDept.aspx/pid-1004031708/code-k/section-videos/
A TALE OF CINEMA (2005, Korea)
Thursday, December 29 @ 6:30PM
Hong Sang-Soo's art film has gotten good reviews all over the place. If you're a fan, you'll be there.
Read a review:
http://www.hollywoodreporter.com/thr/reviews/review_display.jsp?vnu_content_id=1001221699
Loew's State
GARAM MASALA (2005, India)
Akshay Kumar stars in the kind of bubbling, musical comedy that Bollywood specializes in.
more info:
http://www.bollyvista.com/article/a/29/5785
DEEWANE HUNE PAAGAL (2005, India)
A comedy starring Akshay Kumar, and the word on this one is...enh. But still, it's doing okay at the box office.
read a mean review:
http://www.naachgaana.com/index.php?itemid=1021
TAJ MAHAL: AN ETERNAL LOVE STORY (2005, India)
The story of the creation of the Taj Mahal, complete with a plentitude of musical numbers. Reviews are so-so, but everyone says the music is great.
read a review:
http://planetbollywood.com/Film/TajMahal/
Museum of Modern Art
EARLY AUTUMN: MASTERWORKS OF JAPANESE CINEMA FROM THE NATIONAL FILM CENTER, TOKYO
September 14 - January, 2006
Japan's National Film Center opens its archives and releases 53 prints of some of Japan's classic must-see films.
Full listings:
http://www.moma.org/exhibitions/film_media/2005/japanese_cinema.html
BRIGHT STARS, BIG CITY: Chinese Cinema's First Golden Era 1922-1937
December 2 - 22
A shockingly complete retro of early Chinese silent and sound cinema, mostly from Shanghai, the cradle of Chinese film. I can't say much more about it, except go check out what they're showing. It's pretty intense:
http://www.moma.org/exhibitions/film_media/2005/Chinese_cinema.html
Museum of the Moving Image
SO CLOSE (2003, Hong Kong, 110 minutes)
Friday, December 2 @ 7:30PM
Hong Kong's female action movie in excelsis comes to the Museum of the Moving Image for one night only.
read a review:
http://www.subwaycinema.com/frames/archives/nyaff03/soclose.htm
more info:
http://www.movingimage.us/site/screenings/index.html
Links
Archives

This is really, really simple, but - as a service to those who like their hand held - we're gonna spell it out...


TO BE NOTIFIED OF UPDATES TO THIS SITE (approx. once per week)

1) Print this page and then Click Here. This will take you to a new page.


2) Enter you email address in the space designated and click ENTER or OK or GO or whatever
the heck the button on that page says.


3) This should result in two things happening.

First, your browser should change to a message reading:

"Thank you! You will receive an email shortly with instructions on how to confirm
and complete your subscription. You will not be subscribed until you click on
the link in that email. Thanks!"

Secondly, as stated above, you should receive an email in your inbox.
It will be from the following address: listapp-subscribe-bounce@www.server.com


4) Open that email and click on the link within (or cut and paste the listed URL into your browser).


5) This will result in your browser opening to the following message:
"Success! You should begin receiving your weekly Subway Cinema News shortly!"


6) That's it!



© 2000-2005 Subway Cinema. All Rights Reserved.