June 10 - June 17
The New York Asian Film Festival is here, and we've got special guests coming out of our ears.
The director, producer, and most of the cast of
UMIZARU
will be attending the June 20 screening of
UMIZARU
at 6PM. They'll be wearing scuba gear and answering questions.
Also, director/dollmaker/editor/composer, Hideyuki Kobayashi, the evil genius responsible for the gut-busting
MARRONNIER
, will be attending both screenings of the film and answering questions afterwards. We've heard that he brings a puppet to all his Q&A sessions, so be there or be square:
MARRONNIER
Friday, June 25 @ 10:30PM
Sunday, June 27 @ 2:30PM
Plus, we've added
BAYTONG
to the line-up. A last-minute addition, but a film so powerful that we couldn't let it pass us by. The director of the Thai supernatural blockbuster, NANG NAK, helms this intensely emotional film about how one lives in a world full of terrorism and pain. A young Buddhist monk, Tum (Poowarit Poompuang), leaves the monastery, where he's spent all his life, to look after his niece when his sister is killed in a terrorist attack on a train. Moving to the largely-Muslim south of Thailand, Tum tries to navigate the ways of this fallen world. Told with a deep humanity, in the gentle spirit of Korea's CHRISTMAS IN AUGUST, this flick is an emotional "how to" manual on living with other humans. We may kill, we may torture, we may hate, but in the end we have no choice: we have to learn to live with one another, or die.
And remember:
Festival tickets are now on sale!
Go to:
www.subwaycinema.com
Or call SmartTix at (212) 868-4444
NOTE: Some screenings are already sold out
, so don't be caught without a ticket. You can go paperless, and just bring your ID to the box office on the day of the screening, or you can get tickets mailed to you for a small fee.
Advance tickets are $8.
Tickets at the Anthology Box office are $9
Also, don't miss the
official launch party
for NYAFF.
It's at
EUGENE
(27 West 24th Street, between 5 and 6 Aves)
Friday, June 11 @ 10PM (list closes at Midnight)
DJ PF Cuttin will be there all night, and there's an open bar for women until 11:30PM (Men, you can pay for your own drinks)
There'll be free passes given away, free CDs, free DVDs, free love and lots of plush couches.
To be put on guestlist or for table reservations, email guestlist@swervenyc.com. Table reservations for this event are highly recommended. Table DANCES, on the other hand, might be inappropriate. I said "might". We'll decide this on a table by table basis.
Guest list is $10, general admission is $20, and women get in for 5 measely dollars before 11PM.
Subway Cinema would also like to thank one of our sponsors for this year's New York Asian Film Festival... TIGER BEER! From Singapore! Have it for breakfast with your Tony flakes! Or put in in your gas tank in place of Esso! Grrrrrrrr!
We would also like to thank one of our advertisers -
Second on Second
- a wonderful Japanese-French restaurant/bar/karaoke all in one that is a very cool place and right across from the Anthology on 2nd Ave. Please support them because they are supporting Asian film.
NOW PLAYING
Anthology Film Archives
THE INDIAN
(2004, USA, 92 minutes)
Sunday, June 13 @ Noon
The ad says, "Arrive early to avoid disappointment," so you know it's going to be special! The movie compares itself to MY BIG FAT GREEK WEDDING, which is a little queasy-making, but who knows? It might be good. You can check it out for yourself for only the price of a ticket.
Read a review at:
http://www.filmmaker.com/article471.html
Brooklyn Academy of Music
"Village Voice Best Films of 2003"
Are you a super-evolved being from the future? Is your head swollen like an enormous lightbulb sitting on top of your shoulders? Is it this way because it had to expand to accommodate your gigantic, advanced brain? If so, then here's a film festival for all you smarties out there. Three very intelligent, very beautiful, very artsy movies that will be enjoyed for centuries by brainiacs. Attend this festival and between screenings you and your kind can commune telepathically in the lobby.
BLISSFULLY YOURS
(2002, Thailand, 145 minutes)
June 12 & 13
A Thai film about a picnic on the border, immigrants, love and ants. Lots of ants.
Read a review at:
http://www.mrqe.com/lookup?blissfully+yours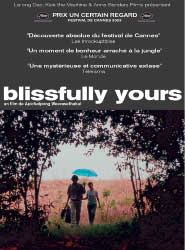 Broadway Theater (Broadway and 53rd)
The hit British musical,
BOMBAY DREAMS
is now open. But even a score by A.R. Rahman (including "Chaiya Chaiya" from DIL SE, and "Shakalaka Baby" from NAYAK), a role for Madhur Jaffrey, the biggest Indian cookbook writer in the West, and inflatable Ganesh statues (plus a big fountain) haven't saved it from almost unanimous critical slams. Yikes! I liked it, but I like Bollywood, and if you don't know Bollywood you probably won't like it, and who in the US knows much about Bollywood? Bolly-bummer.
Ticket info:
212-239-6200
China Institute
NO. 8 MINE
BEIJING, BEIJING
Tuesday, June 15 @ 6:30PM
Two documentaries from China, part of "The Documentary Impulse" series.
NO. 8 MINE
is about how much it sucks to be a miner in China, and it's almost silent depicting in documentary detail the life that many folks saw in the film BLIND SHAFT. It's won awards.
BEIJING, BEIJING
is about how much it sucks to be a performance artist in China, including one subject trying to convince the authorities his work isn't vandalism. Or is it?
Both movies are by Chinese directors, and have screened in European festivals.
Japan Society
Wednesday, June 16 @ 6:30PM
SPY SORGE
(2004, Japan, 183 minutes)
Director Masahiro Shinoda's latest film tells the story of a German spy in 1930's Japan who passed on German and Japanese secrets to the Russians...and changed the course of history! Famed for its recreation of 1930's Tokyo, the film actually looks pretty fascinating. Co-writer, Robert Mundy, will introduce the movie.
Tuesday, July 13 @ 6:30PM
SHARAKU
(1995, Japan, 135 minutes)
Director Masahiro Shinoda strikes again with this "What If?" exploration of the mysterious woodblock artist, Sharaku, portrayed here by Hiroyuki "Henry" Sanada (TWILIGHT SAMURAI; ROYAL WARRIORS). As famous for his sudden appearance and equally as sudden disappearance from the art scene, as for his satirical portraits of Kabuki actors, historians have speculated that Sharaku was actually another famous artist of the time, Hokusai, secretly working in a different style, or that Sharaku's publisher, Tsutaya, was actually Sharaku. Shinoda, however, suggests that he was a former Kabuki artist, sidelined by injury, but ever-possessed by the world of Kabuki. A meticulous recreation of the 18th Century theatrical world, and performances by many famous Kabuki actors, adds to the fun.
Cinema Village
TWILIGHT SAMURAI
(2003, Japan, 130 minutes)
in general release (check theater listings for showtimes)
It's ended its run at the Landmark Sunshine, but someone thinks it's not over yet, so TWILIGHT SAMURAI moves to Cinema Village for more screenings. Japan's revamp of the samurai genre became a big hit back home, and it exudes a corroded, corrupt, genre atmosphere. It does for samurais what Clint Eastwood's UNFORGIVEN did for cowboys. Don't miss it.
read a review at:
http://www.midnighteye.com/reviews/twilsamu.shtml
Also at Cinema Village
GODZILLA
(1954, Japan, original running time...plus 40 more minutes!)
special encore engagement starts May 21
It's Godzilla's 50th birthday, and not only is Ryuhei Kitamura (see AZUMI at this year's NYAFF) shooting the latest (and supposedly last) Godzilla flick in NYC this summer, but the original GODZILLA movie (minus the added-for-American-release Raymond Burr footage) is screening at Film Forum...and it was so popular that when its engagement closed it moved to Cinema Village. Hooray! Let's face it, folks, there's no one out there like Godzilla. See it before it goes away.
more info:
www.rialtopictures.com/godzilla
Film Forum
IMELDA
(2003, USA, 103 minutes)
June 9 - 22 @ 1:00PM, 3:15PM, 5:45PM, 7:50PM, 10:00PM
The butt of more jokes in the 80's than I've had hot dinners, Imelda Marcos is the Tammy Faye Baker of the international dictator set, only without the third-act redemption and with more torture. Her gaudy outward appearance made her something of a lovable mascot for gauche excess and capitalist insanity, which served to soften the fact that for every "Imelda and her shoes" crack there were dozens of Philippinos living in outrageous poverty, and hundreds of political prisoners languishing in solitary confinement and (allegedly) being tortured. Oh, and then there was the suspected murder of a political rival. But what the heck - she had a lot of shoes! Take in this documentary and try to adjust to the moral vertigo.
More info:
http://www.filmforum.com/films/imelda.html
Read reviews:
http://www.mrqe.com/lookup?imelda
Lincoln Center - Walter Reade Theater
"Human Rights Watch International Film Festival"
Spinach in film festival form, the Human Rights Watch Film Festival is actually one of the only places in New York that showcases international cinema on a regular basis.
REPATRIATION
(2003, Korea, 149 minutes)
Saturday, June 19 @ 1PM
Monday, June 21 @ 1PM
Tuesday, June 22 @ 8PM
A documentary about the unconverted North Koreans who were arrested by South Korean authorities and kept in prison for decades. These guys were held for 30 years, and director Kim Dong-Won filmed them for ten years as they were released and went home. This story is also told in the fiction film from Korea, THE ROAD TAKEN, playing at this year's New York Asian Film Festival. Both the feature, and the documentary, have been widely acclaimed. Variety calls REPATRIATION "powerful" and "extraordinary" and the doc enjoyed great success as a theatrical release in Korea last year.
Loews Cineplex 34th Street (W34th St. @ 8th Avenue)
"New Fest"
What's "New Fest"? It's the new name for the Lesbian, Gay, Bisexual & Transgendered Film Festival - or, LGBATFF for short.
COLONEL JIN XING
(2001, France, 52 minutes)
Sunday, June 13 @ 3:15PM
A documentary about one of China's first out transsexuals: Colonel Jin Xing. A decorated military officer, and ballet dancer who started one of the most acclaimed dance companies in China, and who has a great role as Lara, the lesbian hitwoman, in RESURRECTION OF THE LITTLE MATCH GIRL at last year's NYAFF. She's now a mother and pretty fricking rad.
CORNER'S
(2001, Taiwan, 66 minutes)
Saturday, June 12 @ 3:45PM
An impressionistic ode to a famous gay bar in Taipei that was closed by a police raid. Narrated in French (with English subs) this video production is from Zero Chou and Hoho Liu, who are billed as Taiwan's most active and celebrated lesbian filmmakers...which is pretty dim praise since Taiwan isn't known for its film industry or its gay and lesbian scene. This documentary is paired with WITH 3R: IDENTITY BEHIND THE MIRROR a 20 minute short video from Malaysia that examines homophobia.
Loews State Theater
HUM TUM
(2004, India)
Showtimes @ 2PM, 5:30PM, 9PM
Saif Ali Khan (DIL CHATA HAI) and Rani Mukherjee star in the latest offering from Yash Raj Productions. Yash Raj turns out contemporary, mainstream, romantic melodramas and comedies with slick production values and musical numbers. This is a boy meets girl film with some animation (yes, the characters occasionally appear as animated cartoons), and like almost all Yash Raj films it features the obligatory scene shot in Europe.
Read a review:
http://www.mahiram.com/movies/reviews/ht.html
YUVA
(2004, India)
Showtimes @ 1:30, 5PM, 8:30PM
Mani Ratnam is one of India's great directors (he made DIL SE, and if you haven't seen it then go out and get the DVD immediately) and YUVA is one of the biggest films of his career. Abishek Bachchan plays a street thug, Vivek Oberoi (COMPANY) plays a party boy and Ajay Devgan (KHAKEE, COMPANY) plays a student political leader. The three cross paths on a bridge one day in a traumatic incident and the film follows the paths that led them there. The first 2/3's are fantastic, with a ferocious performance by Abishek. The last 1/3 falls into kitsch with scenes of happy tractor-driving farmers and marching students. However, taken as a whole, this is a pretty formidable film about electoral corruption. Great action scenes, and good music by A.R. Rahman as well as terrific female performances by Kareena Kapoor and Rani Mukherjee make it worthwhile. Given the latest round of election madness in India, the movie's practically psychic and is a great look at the on-the-ground tactics behind getting out the vote.
Village East
SPRING, SUMMER, FALL, WINTER...AND SPRING
(2003, Korea, 103 minutes)
Korea's bad boy director, Kim Ki-Duk (THE ISLE) returns with an atypically quiet film, shimmering with Buddhist calm. Highly acclaimed, the flick shows the passing of the four seasons at a floating Buddhist monastery. This movie has run in Manhattan and Brooklyn for almost two solid months. Catch it at Village East, before it goes away.
Read reviews at:
http://www.mrqe.com/lookup?spring+summer+fall+winter+and+spring
Visit the movie's website at:
www.springsummermovie.com
*Special Programs*
Iona Rozeal Brown
Through June 13th @ Wadsworth Atheneum Museum of Art, Hartford, CT
Brown's disturbing artwork parodies the Japanese craze for African-American culture known as ganguro. How does she parody it? She does paintings that look like 17th Century Japanese woodblocks prints...but in blackface. It's kind of interesting and kind of creepy.
Finally, Subway Cinema extends its best wishes to Yosuke Kubozuka, the star of Ping Pong, who fell from his 9th story balcony last week but managed to survive and is on the mend. At last year's New York Asian Film Fest he stole the show as Peco and the film won the Audience Award.
Links
Archives

This is really, really simple, but - as a service to those who like their hand held - we're gonna spell it out...


TO BE NOTIFIED OF UPDATES TO THIS SITE (approx. once per week)

1) Print this page and then Click Here. This will take you to a new page.


2) Enter you email address in the space designated and click ENTER or OK or GO or whatever
the heck the button on that page says.


3) This should result in two things happening.

First, your browser should change to a message reading:

"Thank you! You will receive an email shortly with instructions on how to confirm
and complete your subscription. You will not be subscribed until you click on
the link in that email. Thanks!"

Secondly, as stated above, you should receive an email in your inbox.
It will be from the following address: listapp-subscribe-bounce@www.server.com


4) Open that email and click on the link within (or cut and paste the listed URL into your browser).


5) This will result in your browser opening to the following message:
"Success! You should begin receiving your weekly Subway Cinema News shortly!"


6) That's it!



© 2000-2005 Subway Cinema. All Rights Reserved.