April 15 - April 22
Spring is here and a young man's thoughts turn to academia. There's rumor of a Godzilla symposium coming this Fall, and on April 29 there'll be a Hello Kitty lecture at the Japan Society. BAM is bringing a Wong Kar-wai series in late May (featuring his classic script "Haunted Cop Shop 2" (incorrectly billed as "Haunted Cop Shop", it's a sequel dammit!) and Japan's TWILIGHT SAMURAI will be opening on April 23 at the Landmark Sunshine theaters. What ever happened to stupid movies? Thank god for "Haunted Cop Shop 2", that's all I've got to say.
Also, Bollywood is all over the place this week with two real Bollywood movies at the Loew's State theater for the first time in weeks, and five fake Bollywood movies (and one real one) as part of the Cinema Indian series at the American Museum of the Moving Image and the Asia Society. And what's up with giving Indian movies English titles. DILWALE DULHANIA LE JAYENGE or DDLJ is DILWALE DULHANIA LE JAYENGE not THE BRAVE HEART WILL TAKE THE BRIDE.
COMING SOON
Subway Cinema's New York Asian Film Festival (that's us!) is running from June 18-27 at the Anthology Film Archives (32 Second Avenue, at Second Street). We've added two new films to the line-up last week and there are many more to come!
LIKE ASURA (Japan, 2003) - set in 1979, this isn't the kind of movie you'd expect us to show. A mainstream crowd-pleaser that won the Japanese Academy awards for "Best Director", "Best Screenplay" and "Best Supporting Actress" it's the story of four adult sisters, each living a secret private life, who come together when one of them suspects that their elderly father is having an affair. Technically slick, with precision comic performances, this is a slice of warmhearted, large scale moviedom that anyone who's ever had a sister will relate to almost uncomfortably well.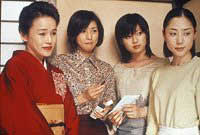 MACABRE CASE OF PROM PI RAM (Thailand, 2003) - in 1977 in the remote village of Prom Pi Ram a young, mentally disturbed woman is found raped and strangled to death. Two local yokel cops try to piece together what happened, and this film follows them as they go step-by-step on their plodding way, trying to uncover a crime that's darker than anything they ever imagined. It swept the Supannahongsa Film Awards (Thailand's largest film awards) winning "Best Film", "Best Actress", "Best Script", "Best Editing" and "Best Music" (the score is by British composer, Richard Harvey, who reportedly donated his services after seeing a rough cut of the film). What you'll remember about this movie isn't the cancerous story of human greed and cruelty, but the two decent cops who move slowly but surely forward, convinced that every mystery has a solution, convinced that their little backwater is a decent place to live no matter how much evidence they uncover to the contrary, and convinced that even a dead stranger deserves justice, no matter how long it takes to achieve.
For those with missed last week's newsletter, here is a link to the other films so far in the fest.
http://subwaycinema.com/frames/nyaff04.htm
STRIKE A BLOW FOR MOTION PICTURE FREEDOM! COME TO THE NEW YORK ASIAN FILM FESTIVAL!
ALSO COMING SOON
The Landmark Sunshine is advertising TWILIGHT SAMURAI, Japan's submission for Best Foreign Film at the Oscars this year.
NOW PLAYING:
In General Release:
SHAOLIN SOCCER (2002, Hong Kong, 87 minutes)
at the Landmark Sunshine
SPRING, SUMMER, FALL, WINTER...AND SPRING (2003, Korea, 103 minutes)
Friday, March 26 @ 7PM
Korea's bad boy director, Kim Ki-Duk (THE ISLE) returns with an atypically quiet film, shimmering with Buddhist calm. Highly acclaimed, the flick shows the passing of the four seasons at a floating Buddhist monastery. Sony Pictures Classics is releasing the film at Lincoln Plaza Cinemas (Broadway, between 62 and 63 Streets) and the Angelika Film Center.
Read reviews at:
http://www.mrqe.com/lookup?spring+summer+fall+winter+and+spring
Visit the movie's website at:
www.springsummermovie.com
American Museum of the Moving Image
CINEMA INDIA! SHOWCASE 2004 FILM SERIES
This touring Indian film series starts off at the Asia Society, and then moves to the AMMI for the following screenings (full description of program is in the listing for the ASIA SOCIETY).
MAQBOOL (2003, India, 132 minutes)
Friday, April 23 @ 7:30PM
American Museum of the Moving Image
A highly-acclaimed Bollywood style retelling of Macbeth. Also starring Tabu.
THE SPEAKING HAND: ZAKIR HUSSAIN AND THE ART OF THE INDIAN DRUM (2003, India, 104 minutes)
Friday, April 30 @ 7:30PM
American Museum of the Moving Image
A documentary about legendary tabla player Zakir Hussain.
DILWALE DULHANIYA, LE JAYENGE (1995, India, 189 minutes)
Friday, May 14 @ 7:30PM
American Museum of the Moving Image
One of India's biggest hits, this musical may seem a little corny to Westerners, but it's as beloved by many Indians as The Sound of Music. Westernized kids and their traditional parents butt heads in this movie that's run almost non-stop since it was first released. It made Shahrukh Khan and Kajol the two biggest stars in Bollywood.

KANDUKONDAIN, KANDUKONDAIN/I HAVE FOUND IT (2000, India, 150 minutes)
Saturday, April 17 @ 5:30PM
American Museum of the Moving Image
A dazzling Bollywood version of Sense and Sensibility with music from A.R. Rahman and the stunning looks of Aishwarya Rai - often called " the most beautiful woman in the world" and since she won Miss Universe she can prove it!
WAISA BHI HOTA HAI/ANYTHING CAN HAPPEN (2003, India 138 minutes)
Saturday, April 17 @ 2:30PM
American Museum of the Moving Image
BARIWALI/THE LADY OF THE HOUSE (1999, India, 150 minutes)
Friday, April 16 @ 7:30PM (preceded by a 6:30PM reception)
American Museum of the Moving Image
SPECIAL SCREENING:
RED TROUSERS (2003, Hong Kong, 93 minutes)
April 16 @ 7:30PM
"From Robin Shou of Mortal Kombat" roars the tagline. This documentary about Hong Kong stuntmen has received mixed notices across the board, but should prove of great interest to fans of HK action. The film combines stunt footage, interviews, and a sci-fi action film being used as a demo reel to show how stunts are stunted.
More info:
www.redtrousers.com
Asia Society
NEW ZEALAND SHORTS
Wednesday, April 21 @ 6:30PM
A collection of short films from New Zealand with names like "Needles and Glass", "The Freezer", "Kitty" and "From Where I Am Standing". Let's hope the movies are better than their titles. And why haven't they included "Hobbit Rubdown", "Sheep Stroking Fever!", "Dancing Tina and her Mexican Complication"? These are the classic New Zealand shorts! According to the press kit, curator Susan Talbot will also be wearing New Zealand shorts that night.
$5 students; $7 members; $10 nonmembers; $100 dead people
CINEMA INDIA! SHOWCASE 2004 FILM SERIES
Friday, April 16 and Saturday, April 17
A touring Indian film series arrives at the Asia Society before expanding its line-up and moving to the American Museum of the Moving Image later this month. A panel discussion on Indian film will take place on April 17th at Noon. Participants will be:
Mira Nair (Monsoon Wedding)
the curator of the series, Radha Welt Vatsal
Kiron Kher (actor in Bariwali)
Shashanka Ghosh (director of Anything Can Happen)
Vishal Bharadwai (director of Maqbool)
and it'll be moderated by Prem Panicker (the well-named editor of India Abroad) and Greg Winter (New York Times).
All Cinema India! (love that exclamation point!) events cost $10 for general riff raff, $7 for Asia Society members, and $5 for students.
Call 212-517-ASIA for advance tickets.
BARIWALI/THE LADY OF THE HOUSE (1999, India, 150 minutes)
Friday, April 16 @ 7:30PM (preceded by a 6:30PM reception)
Asia Society
Arthouse film about a lonely, middle-aged spinster (aren't they all?) who rents her home to a film crew with "devastating consequences".
WAISA BHI HOTA HAI/ANYTHING CAN HAPPEN (2003, India 138 minutes)
Saturday, April 17 @ 2:30PM
Asia Society
An advertising man saves a hitman's life and causes the downfall of Bombay's top gang lords. Sporting "idiosyncratic" characters and subplots, this is Ghosh's first feature. Previously he helped launch MTV and Channel V in India.
KANDUKONDAIN, KANDUKONDAIN/I HAVE FOUND IT (2000, India, 150 minutes)
Saturday, April 17 @ 5:30PM
Asia Society
This South Indian film sets Jane Austen's Sense and Sensibility in India. Don't know much about this one, but with Aishwarya Rai and Tabu starring and music by genius A.R. Rahman, it's probably worth watching.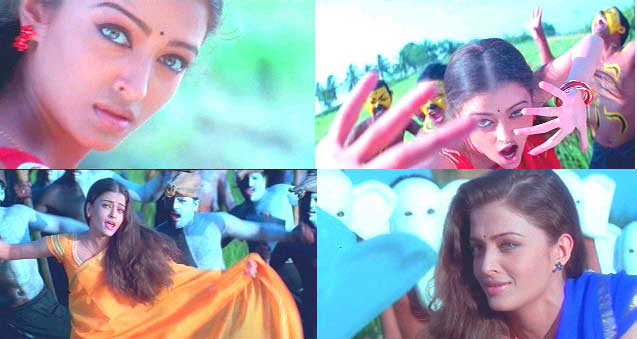 Broadway Theater (Broadway and 53rd)
The hit British musical, BOMBAY DREAMS, is currently in previews, gearing up for its April 29th opening. By Andrew Lloyd Weber, and with music by Indian composer genius, A.R. Rahman, it's the long-awaited South Indian invasion of the Great White Way.
Ticket info:
212-239-6200
Columbia University
GODZILLA CONQUERS THE GLOBE: Japanese Movie Monsters in International Film Art
C.V. Starr East Asian Library
A big exhibition of GODZILLA film materials from around the globe. For exhibit times and how to get to the library and find the exhibit (it seems to be in two different areas) please go to the website listed below. Check out the website anyways, because if you can ignore the goofy picture of Godzilla (who looks more like the Loch Ness Monster here) you can also see a map and a case by case listing of every single object in the exhibit. What I want to know is: who's the nut at Columbia who put this on? And how do I give him a medal?
more info:
http://www.columbia.edu/cu/ealac/dkc/calendar/godzilla/
Japan Society
BLUE SPRING (2003, Japan, 83 minutes)
Friday, April 23 @ 6:30PM
The flick starts with a teacher running screaming from the high school, bad kids hot on his trail. Part of the "From Manga to Eiga" series, the movie's listing on the Japan Society page even sports the warning: "Movie includes graphic violence" which is always a sign of quality. In reality, it's a well-drawn portrait of washed-up kids on the brink, that's neither as graphic, nor as exploitative, as most descriptions would lead you to believe.
$10 for nonmembers, $5 for members
more info:
http://www.japansociety.org/events/event_detail.cfm?id_event=496100681&id_performance=859592581
read a review at:
http://www.midnighteye.com/reviews/blspring.shtml
Landmark Sunshine Cinema
SHAOLIN SOCCER (2002, Hong Kong, 87 minutes)
check theater listings for showtimes
Stephen Chiau's comic masterpiece is released by Miramax after dozens of delays. The ads paint it as a straight-up chop socky flick, but this is one of the funniest movies ever made and Chiau makes his bid for comic immortality with this deadpan, absurd heroic ballad of a film.
more info:
http://www.metacritic.com/film/titles/shaolinsoccer/

Loew's State Theater
YEH LAMHE JUDAAI KE
(4:45PM & 8:15PM daily)
MASTI (2004, India, 152 minutes)
(5:00PM & 9:30PM daily)
Masti is a lamebrain sex comedy about three guys who decide to prove that they're their own people and have affairs on their girlfriends and fiances. But Bollywood knows that this kind of braindead, slapschtick always works better with musical numbers, and this movie sports plenty of them.
more info:
http://www.planetbollywood.com/Film/Masti
YEH LAMHE JUDAAI KE (2003, India)
Shah Rukh Khan and Raveena Tandon star in a love story with musical numbers but by all accounts this is an old film, never completed, that had some insert shots slapped in, and has been released to near-universal disdain.
more info:
http://www.indiafm.com/reviews/04/yehlamhejudaaike/index.shtml
Museum of Sex (233 Fifth Avenue @ 27th Street)
SEX AMONG THE LOTUS: 2500 YEARS OF CHINESE EROTIC OBSESSION
Opens March 18, 2004
I don't know if I'd call it obsession (that's a little pejorative) but there's a long tradition of Chinese erotica and this exhibition has got it all on smutty display: from dirty Bronze Age tomb tiles, to the last skin mags. Better yet, it's sponsored by Tiger Beer, which is kind of cool. Do you see Anheuser-Busch sponsoring displays of American pornography? Uh, I mean, erotica? It's especially heartening to see this exhibit open on the heels of Hong Kong Penthouse magazine closing up in March 2004.
Tickets are $14.50 (plus tax) and $13.50 (plus tax) for students and seniors.
info: (212) 689-6337
Tix: (866) 667-3984
more info (Internet Explorer only):
http://museumofsex.com/exhibitions/lotus/index.html
Opaline (82 Avenue A)
ZATOICHI 26 (1989, Japan, )
Saturday, April 17 @ 6PM
Two club nights featuring screenings of the final ZATOICHI film from the original series, directed by and starring Zatoichi himself, Shintaro Katsu, in his last performance.
At 8:30PM there'll be music by New Years, In Spite Of, The Corporation, and other bands with names that sound pretty much like that.
The event will originate in New Jersey on April 16 @ 6PM at the Art House (32-34 Newark Street, Hoboken, NJ)
RSVP for either night to:
201 795-1878
For more information, please contact:
John Vargas @ 201-795-1878 or johnv@fmfb.net
Tribeca Grand Hotel (2 Avenue of the Americas @ White Street)
2009 LOST MEMORIES (2002, Korea)
April 15th @ 7 & 9PM
This Korean alternative history/sci-fi flick serves up a kooky parallel universe where Korea is still a Japanese colony. Larded with slo-mo bullet ballets and CGI this movie did very well at the box office in Korea when it was released. New York-Tokyo is holding a FREE screening of this movie in the posh screening room of the Tribeca Grand Hotel.
RSVP to:
film@newyork-tokyo.com
read a review at:
http://www.koreanfilm.org/kfilm02.html#lostmem
*Special Programs*
Iona Rozeal Brown
Through June 13th @ Wadsworth Atheneum Museum of Art, Hartford, CT
Brown's disturbing artwork parodies the Japanese craze for African-American culture known as ganguro. How does she parody it? She does paintings that look like 17th Century Japanese woodblocks prints...but in blackface. It's kind of interesting and kind of creepy.
Links
Archives

This is really, really simple, but - as a service to those who like their hand held - we're gonna spell it out...


TO BE NOTIFIED OF UPDATES TO THIS SITE (approx. once per week)

1) Print this page and then Click Here. This will take you to a new page.


2) Enter you email address in the space designated and click ENTER or OK or GO or whatever
the heck the button on that page says.


3) This should result in two things happening.

First, your browser should change to a message reading:

"Thank you! You will receive an email shortly with instructions on how to confirm
and complete your subscription. You will not be subscribed until you click on
the link in that email. Thanks!"

Secondly, as stated above, you should receive an email in your inbox.
It will be from the following address: listapp-subscribe-bounce@www.server.com


4) Open that email and click on the link within (or cut and paste the listed URL into your browser).


5) This will result in your browser opening to the following message:
"Success! You should begin receiving your weekly Subway Cinema News shortly!"


6) That's it!



© 2000-2005 Subway Cinema. All Rights Reserved.