May 13 - May 20
No, Troy is not in Asia, and TROY does not count as an Asian movie. I know that's what a lot of people would like to think, but it's just a lie. Asian film kicks into high gear this week with a slew of retrospectives and films in general release. And it's just going to get better between now and later.
COMING SOON:
PEDICAB DRIVER, starring Sammo Hung, is on May 30 (Memorial Day!) at 4PM at the Anthology Film Archives.
Subway Cinema's New York Asian Film Festival kicks off June 18.
This year tickets to the festival will be sold in advance! Check subwaycinema.com next week to see when the tickets will go on sale.
NOW PLAYING
American Museum of the Moving Image
CINEMA INDIA! SHOWCASE 2004 FILM SERIES
This touring Indian film series starts off at the Asia Society, and then moves to the AMMI for the following screenings (full description of program is in the listing for the ASIA SOCIETY).
DILWALE DULHANIYA LE JAYENGE (1995, India, 189 minutes)
Friday, May 14 @ 7:30PM
They're calling it THE BRAVE HEART WILL TAKE THE BRIDE but millions of Indians call it DILWALE DULHANIYA LE JAYENGE (or DDLJ) and they should know: it's currently the longest-running Bollywood movie ever made (still playing) and while it looks a little crude, it's got the same charm as a lot of those "I love it for no real good reason" Western classics like THE SOUND OF MUSIC or SEVEN BRIDES FOR SEVEN BROTHERS. Plus, it stars Shah Rukh Khan (yay! The biggest stud in Bollywood, and inheritor of the Cary Grant Crown of Manliness now that Chow Yun-fat has gotten pudgy). Check out MAIN HOON NA at the Loew's State theater, it's the latest big film from Bollywood and Shah Rukh is there, too...and he hasn't aged!

VIOLENT LIVES, FRAGILE BEAUTY: THE FILMS OF TAKESHI KITANO
May 15th, 16th and 21st
Takeshi Kitano's ZATOICHI remake comes out this year, but you owe it to yourself to check out his stunning body of work. A television host, author, director, actor and painter, he's one of Japan's best-known stars but his movies are beyond amazing. If you've never seen one, then you owe it to yourself to check out HANA BI, and if you're intrigued try SONATINE and VIOLENT COP as well.
DOLLS (2002, Japan, 114 minutes)
Saturday, May 15 @ 2PM
Takeshi's collaboration with fashion designer was less than happy, but the oddly static, oddly disturbing and oddly beautiful DOLLS is worth checking out for fans.
SONATINE (1993, Japan, 94 minutes)
Saturday, May 15 @ 4:30PM
Takeshi's best gangster movie is like no other crime film you've ever seen. Elliptical and beautifully moving, it brought to an end his gangster badass phase.
HANA BI (Fireworks) (1998, Japan, 103 minutes)
Saturday, May 15 @ 6:30PM
Sunday, May 16 @ 6:30PM
Made after he almost died in a motorcycle accident that left half of his face permanently paralyzed, this is Takeshi's greatest movie. All about how to pick up the pieces and move on when your life falls apart, it's sprinkled with paintings by the director that he did while he was recovering from his brush with death. A cop drama, a comedy, a harrowing drama...it's the movie of his you should see first.
KIDS RETURN (1996, Japan, 107 minutes)
Sunday, May 16 @ 2PM
Directed by, but not starring Takeshi Kitano, this is all about two friends who never amount to much of anything. Sick and tired of movies about overcoming odds and triumphing over adversity, Takeshi made this movie about the rest of us: the ones who don't ride off into the sunset, the ones who have to keep living even after their dreams haven't worked out. One of the kids tries to become a boxer, the other tries to become a gangster, and neither are very successful. So what's left that's worth having?
ZATOICHI (2004, Japan, 116 minutes)
Friday, May 21 @ 7:30PM
This special screening gives you a chance to take a look at Takeshi's ZATOICHI before it goes into wide release this summer. It's his remake of the popular ZATOICHI series from the 1960's (a retro of which is part of the New York Asian Film Festival) about a blind, swordsman who works as a masseur and tries to stay out of trouble in feudal Japan. Needless to say, trouble can't stay away from him, and massive whup ass results.
Angelika Film Center
OASIS (2002, Korea, 132 minutes)
Run ends May 13 (and then moves to Village East cinemas)
In general release (check listings for showtimes)
Lee Chang-Dong's exquisitely painful story of a guy who gets out of prison and falls in love with a girl who has cerebral palsy, is at the Angelika. There's nothing bad to say about this movie, and apparently Italians thought so, too, since it won "Best Director" at the Venice Film Fest in 2002. The thought of the goatee-stroking, espresso-drinking, corduroy-wearing Angelika audiences getting their skulls blasted open by this toxic love-bomb just gets me giggly.
read a review:
http://www.offoffoff.com/film/2003/oasis.php
SPRING, SUMMER, FALL, WINTER...AND SPRING (2003, Korea, 103 minutes)
Korea's bad boy director, Kim Ki-Duk (THE ISLE) returns with an atypically quiet film, shimmering with Buddhist calm. Highly acclaimed, the flick shows the passing of the four seasons at a floating Buddhist monastery. Sony Pictures Classics is releasing the film at Lincoln Plaza Cinemas (Broadway, between 62 and 63 Streets) and the Angelika Film Center.
Read reviews at:
http://www.mrqe.com/lookup?spring+summer+fall+winter+and+spring
Visit the movie's website at:
www.springsummermovie.com
Brooklyn Academy of Music
SPRING, SUMMER, FALL, WINTER...AND SPRING (2003, Korea, 103 minutes)
May 12 & 13 @ 4:45PM, 7:15PM, 9:30PM
May 14 - 20 @ 2:20PM (Fri-Sun only), 4:50PM, 7:15PM, 9:30PM
LIVING IN DREAMS: WONG KAR-WAI retrospective
May 14-23
HAPPY TOGETHER (1997, Hong Kong, 96 minutes)
Friday, May 14 @ 2, 4:30, 6:45, 9pm
The most tender and emotionally violent romance ever made, it's a sugar-spiked ode to being in love, with no one to support you but your best friend and greatest enemy: that stranger who shares your bed. Leslie Cheung (FAREWELL MY CONCUBINE) plays the one who makes messes and Tony Leung (INFERNAL AFFAIRS, HERO) plays the responsible one who cleans them up. These two Chinese guys are lovers living in Buenos Aires, trying to hold it together.
CHUNGKING EXPRESS (1994, Hong Kong, 102 minutes)
Saturday, May 15 @ 2, 4:30, 6:45, 9pm
This is the movie where most folks "discovered" Wong Kar-wai. A quickie flick, tossed off to release pent-up energy during the protracted shoot of ASHES OF TIME, it's become a classic that everyone who lives in a big city (like this one) should have to see. Tony Leung, Chinese pop star Faye Wong, iconic Brigitte Lin and Takeshi Kaneshiro star. Christopher Doyle's photography takes off in this movie, and never looks back.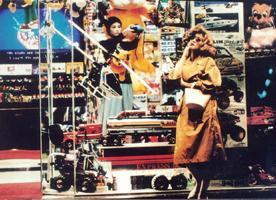 ASHES OF TIME (1994, Hong Kong, 102 minutes)
Sunday, May 16 @ 2, 6:45pm
Every star in Hong Kong is in this movie, and the talent behind the camera - Wong Kar-wai, Sammo Hung, Christopher Doyle - is equally impressive. A reinvention of the martial arts swordplay film, it's a landmark of the genre and one of the only movies that grows and becomes deeper and richer every time you view it. Fans know this, and most have seen it at least five times, if not more.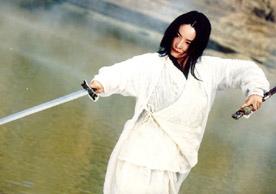 EAGLE SHOOTING HEROES (1993, Hong Kong, 100 minutes)
Sunday, May 16 at 4:30, 9pm
Shot with the same cast, and based on the same source material, this Wong Kar-wai-produced send-up of ASHES OF TIME actually completed production first (ASHES enjoyed an infamously protracted shoot) and was released earlier than the movie it parodies. See Hong Kong's biggest names really cut loose in some of the most bizarre situations you've ever seen. Highlights include the severed, flying head of Tony Leung Kar-fai, and dancing centipedes living in stomachs.

BUENOS AIRES, ZERO DEGREES (1999, Hong Kong, 60 minutes)
Thursday, May 20 @ 4:30, 6:45, 9pm
Wong Kar-wai spent forever in Argentina shooting HAPPY TOGETHER, miles of film were left on the cutting room floor, and the movie changed radically once he was on location. This documentary is an art object in and of itself, that documents the hazy, crazy days of the shoot.
AS TEARS GO BY (1988, Hong Kong, 100 minutes)
Friday, May 21 @ 2, 6:45pm
It's all there in Wong Kar-wai's first film, a Cantonese take on MEAN STREETS that is, in my opinion, better, trading Catholic angst for modern, urban malaise. Andy Lau (INFERNAL AFFAIRS, RUNNING ON KARMA) stars with Jacky Cheung and Maggie Cheung (IN THE MOOD FOR LOVE). Pop music plays a central role, as in all of Wong's movies, and in this case it's a gorgeous version of "Take My Breath Away". A huge hit in Hong Kong when it was released.
HAUNTED COP SHOP (1987, Hong Kong, 88 minutes)
Friday, May 21 @ 4:30, 9pm
From director of EAGLE SHOOTING HEROES, starring Jacky Cheung (AS TEARS GO BY) and written by Wong Kar-wai, this is a Hong Kong supernatural action comedy about cops hunting monsters. There's been some debate as to whether it's actually HAUNTED COP SHOP 2, but whichever movie it is, it's a lot of dumb fun.
IN THE MOOD FOR LOVE (2000, Hong Kong, 98 minutes)
Saturday, May 22 @ 2, 4:30, 6:45, 9pm
The story of an almost-affair between Maggie Cheung and Tony Leung in 1960's Hong Kong, this gorgeous movie is a return to the gravity of DAYS OF BEING WILD, and a step away from the pop-coated flicks Wong made through much of the late 90's. Shimmering with regret, throbbing with sinuous latin beats, and art directed to within an inch of its life, this is one of the more painful movies about the road not taken ever made.

DAYS OF BEING WILD (1990, Hong Kong, 94 minutes)
Sunday, May 23 @ 2, 6:45pm
Fresh off the success of AS TEARS GO BY, Wong was given carte blanche to make his second movie and he shot for the outer reaches of the solar system with this 1960's tone poem about various characters crossing paths and hurting each other horribly. Starring Leslie Cheung as a playboy at war with his stepmother (Rebecca Pan, IN THE MOOD FOR LOVE), Maggie Cheung, Andy Lau, Jacky Cheung, Carina Lau and Tony Leung, it was hailed as a masterpiece by critics, but universally rejected by audiences (although its soundtrack did spark a mini-revival of cool tango music).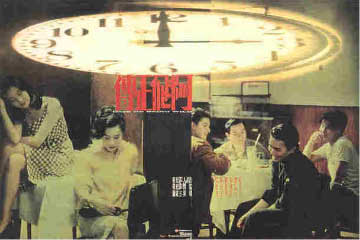 FALLEN ANGELS (1995, Hong Kong, 90 minutes)
Sunday, May 23 @ 4:30, 9pm
My favorite Wong Kar-wai movie, this flick takes the aesthetic and themes of CHUNGKING EXPRESS and runs with them. A hitman who wants to become more proactive, a lost party girl who wants a friend, a guy who doesn't want to buy ice cream and a mute layabout brush past one another on the nighttime streets of Hong Kong, sometimes leaving a mark, sometimes not even noticing one another's passing. With the best closing shot of any film of the 90's, deeply cool music, passages that'll make you wince in embarrassment, and scenes that'll make your heart flutter, this is a grandly uneven film that aims for something huge, and pretty much gets there.
NAUSICAA (1984, Japan, 116 minutes)
Thursday, May 13 @ 4:40PM, 6:45PM, 9PM
Not a Wong Kar-wai movie, this is animator Hayao Miyazaki's first feature film. Miyazaki is the director of PRINCESS MONONOKE, SPIRITED AWAY and MY NEIGHBOUR TOTORO. NAUSICAA is a sci fi piece about a princess on a future earth that's been blighted by ecological disaster. An epic you can take your kids to, its been lauded by fans as a powerful call for environmental preservation, as well as an action yarn, and this is one of the first times it's being screened in the US since 1984.
General admission tickets to BAM Rose Cinemas are $10. Tickets are $7 for students 25 and under (with valid I.D. Monday-Thursday, except holidays) and $6 for seniors, BAM Cinema Club members, and children under twelve. Tickets are available at the BAM Rose Cinemas box office, by phone at 718.777.FILM (order by "name of movie" option), or online at www.bam.org.
Broadway Theater (Broadway and 53rd)
The hit British musical, BOMBAY DREAMS is now open. But even a score by A.R. Rahman (including "Chaiya Chaiya" from DIL SE, and "Shakalaka Baby" from NAYAK), a role for Madhur Jaffrey, the biggest Indian cookbook writer in the West, and inflatable Ganesh statues (plus a big fountain for a wet saree number) haven't saved it from almost unanimous critical slams. Yikes! I liked it, but I like Bollywood, and if you don't know Bollywood you probably won't like it, and who in the US knows much about Bollywood? Bolly-bummer.
Ticket info:
212-239-6200
Cinema Village
TWILIGHT SAMURAI (2003, Japan, 130 minutes)
Starts Friday, May 14
In general release (check theater listings for showtimes)
It's ended its run at the Landmark Sunshine, but someone thinks it's not over yet, so TWILIGHT SAMURAI moves to Cinema Village for more screenings. Japan's revamp of the samurai genre became a big hit back home, and it exudes a corroded, corrupt, genre atmosphere. It does for samurais what Clint Eastwood's UNFORGIVEN did for cowboys. Don't miss it.
read a review at:
http://www.midnighteye.com/reviews/twilsamu.shtml
SPRINGTIME IN A SMALL TOWN (2002, China)
Special engagement starts May 14
In general release (check theater listings for showtimes)
Chinese director Tian Zhuangzhuang's moving and beautiful tale of a love triangle in a Chinese village after World War II is a remake of a 1940's melodrama, but Tian manages to turn this unpromising premise into a gorgeously shot, psychologically-riveting film that exerts a hold on viewers far beyond what you'd expect. Widely lauded at film festivals, it won "Best Film" at the 2002 Venice Film Festival.
more info:
http://www.mrqe.com/lookup?springtime+in+a+small+town
Columbia University
GODZILLA CONQUERS THE GLOBE: Japanese Movie Monsters in International Film Art
C.V. Starr East Asian Library
Ends May 15
A big exhibition of GODZILLA film materials from around the globe. For exhibit times and how to get to the library and find the exhibit please go to the website listed below. Check out the website anyways, because if you can ignore the goofy picture of Godzilla (who looks more like the Loch Ness Monster here) you can also see a map and a case by case listing of every single object in the exhibit. And, apparently, the exhibit is BYOED (Bring Your Own Exhibit Descriptions) so make sure you print out the website as there's almost no signage at the library.
The exhibit extends through three rooms on two different floors; part of it is in the Main Reading Room of the Starr Library, which is open all day during the academic term, but the other two rooms are open only M-F 9AM - 1PM. Curated by Prof. Gregory M. Pflugfelder, who deserves a Nobel prize for his Godzilla scholarship, it'll run through May 15, and the good Prof. Pflugfelder (is that a made-up name?) is organizing a Godzilla symposium for the Fall. A Godzilla symposium?!? Could we possibly live in a better world?
more info:
http://www.columbia.edu/cu/ealac/dkc/calendar/godzilla/
Film Forum
GODZILLA (1954, Japan, original running time...plus 40 more minutes!)
May 7 - May 20 @ 1:10PM, 2PM, 3:15PM, 4PM, 5:30PM, 6PM, 7:30PM, 8PM, 9:40PM & 10PM (whew!)
Ends May 20
It's Godzilla's 50th birthday, and not only is Ryuhei Kitamura (see AZUMI at this year's NYAFF) shooting the latest (and supposedly last) Godzilla flick in NYC this summer, but Film Forum is showing a new 35mm print, with new footage, no Raymond Burr, and new subtitles. Godzilla (let's just call him "God") deserves it. It's old and it's in black and white, but so's CITIZEN KANE...and Godzilla's taller.
more info:
http://www.filmforum.com/films/godzilla.html
Empire 25 (42nd St. between 7th and 8th Avenues)
SHAOLIN SOCCER (2002, Hong Kong, 87 minutes)
in general release (check theater listings for showtimes)
Stephen Chiau's comic masterpiece is keeps going, and going, and going. The ads paint it as a straight-up chop socky flick, but this is one of the funniest movies ever made and Chiau makes his bid for comic immortality with this deadpan, absurd heroic ballad of a film. Dedicated to everyone who ever played soccer, anywhere.
more info:
http://www.metacritic.com/film/titles/shaolinsoccer/
Japan Society
FANCY DANCE
Wednesday, May 12 @ 6:30PM
This "From Manga to Eiga" series just won't stop. Here comes FANCY DANCE, the super-popular story of a wannabe rock star (currently a college student) who has to become a Zen monk for a year in order to grow up and manage his dad's temple one day.
more info:
Here
Lincoln Plaza Cinemas (Broadway, between 62 and 63 Streets)
SPRING, SUMMER, FALL, WINTER…AND SPRING (2003, Korea, 103 minutes)
(check listing for showtimes)
OASIS (2002, Korea, 132 minutes)
Ends May 13
In general release (check listings for showtimes)
Run ends May 13 (and then moves to Village East cinemas)
Uptown audiences get a poke in the eye and a kick in the heart with the belated release of Lee Chang-Dong's exquisitely painful story of a guy who gets out of prison and falls in love with a girl who has cerebral palsy.
SPRINGTIME IN A SMALL TOWN (2002, China)
Special engagement starts May 14
in general release (check theater listings for showtimes)
Loew's State Theater
MAIN HOON NA (2004, India)
Showtimes @ 12PM, 2PM, 4PM, 6PM, 8PM & 10PM
The first big Bollywood film of the year (it is breaking all sorts of attendence records back in India) hits the screens, and how! It's veteran choreographer, Farah Khan's, directorial debut starring Shah Rukh Khan, Sushmita Sen and Amrita Rao. A terrorist plot somehow requires SRK to go to college, wear nerdy clothes and romance a teacher, and the fate of Indian/Pakistani relations hangs in the balance. A big ol' masala, it's a throwback to the wonder years of Bollywood when every movie tried to appeal to every filmgoer. It is a huge amount of crazy fun that can make your head spin with its rat-a-tat genre shifting.
read a review:
http://www.indiafm.com/reviews/04/mainhoonna/index.shtml
Village East Cinemas (2nd Avenue at 12th Street)
OASIS (2002, Korea, 132 minutes)
In general release (check listings for showtimes)
OUT OF TOWN!
TWILIGHT SAMURAI is spreading across America like the Blob. It'll be opening at the following theaters on May 7:
JACOB BURNS FILM CENTER in Westchester
CINEMA ARTS CENTER in Suffolk
CLAIRIDGE CINEMA 6 in Montclair, NJ
*Special Programs*
Iona Rozeal Brown
Through June 13th @ Wadsworth Atheneum Museum of Art, Hartford, CT
Brown's disturbing artwork parodies the Japanese craze for African-American culture known as ganguro. How does she parody it? She does paintings that look like 17th Century Japanese woodblocks prints...but in blackface. It's kind of interesting and kind of creepy.
An Ad in the NY Asian Film Festival Program
The NY Asian Film Festival is currently selling ads for its glossy full-color, 8.5" x 5.5" program. Be the first on your block to purchase one!
What could be better than advertising in this year's program and thus helping your own company and also supporting Subway Cinema and Asian films at the same time. There will be approximately 45 screenings and we hope lots of people attending the films.
And what does it cost you might ask? The best bargain in town!
Full Page (8.5" x 5.5") - $700
2-Page Spread - $1,300
Inside Front Cover - $800
Inside Back Cover - $800
Back Cover - $900
Half-Page (4.25" x 5.5") - $400
Quarter-Page (4.25" x 2.75") - $200
If you are interested in purchasing an ad, please send an e-mail to:
brian@subwaycinema.com
Links
Archives

This is really, really simple, but - as a service to those who like their hand held - we're gonna spell it out...


TO BE NOTIFIED OF UPDATES TO THIS SITE (approx. once per week)

1) Print this page and then Click Here. This will take you to a new page.


2) Enter you email address in the space designated and click ENTER or OK or GO or whatever
the heck the button on that page says.


3) This should result in two things happening.

First, your browser should change to a message reading:

"Thank you! You will receive an email shortly with instructions on how to confirm
and complete your subscription. You will not be subscribed until you click on
the link in that email. Thanks!"

Secondly, as stated above, you should receive an email in your inbox.
It will be from the following address: listapp-subscribe-bounce@www.server.com


4) Open that email and click on the link within (or cut and paste the listed URL into your browser).


5) This will result in your browser opening to the following message:
"Success! You should begin receiving your weekly Subway Cinema News shortly!"


6) That's it!



© 2000-2005 Subway Cinema. All Rights Reserved.