June 3 - June 10
The New York Asian Film Festival is over, and we just want to extend a huge "thank you" to all of you who came out. We really went out on a financial limb this year, and thought we could never break even, thus ending our foray into the world of festivals and shuffling off into obscurity and darkness, broken beyond repair.
Instead, you guys came in droves and made this one of the most fun events we've ever had. Screening after screening sold out. Lines stretched around the block. We actually broke even. And so, like we warned you, it looks like we'll be back next year. So thank you for making this happen. It's all you. We don't actually buy any tickets to our own movies, relying lazily on you to do that for us.
Also, unbelievably, PLEASE TEACH ME ENGLISH won the Subway Cinema Audience Award. Yes, you voted the little pig into the winning slot by a landslide. We'll soon be forcing a chintzy plaque on the distributor. Hooray!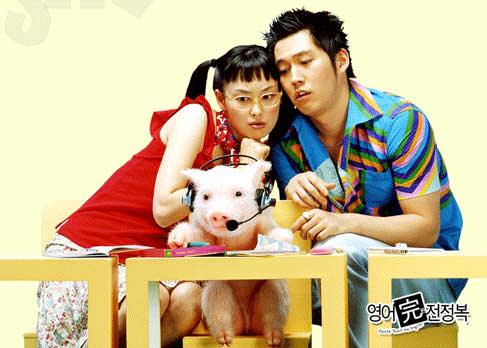 COMING SOON
July 23 brings the sold-out, Japanese horror sensation, JUON, to the Angelika. More details on JUON at:
http://www.subwaycinema.com/frames/nyaff04-juon.htm
July 30 sees a Wong Kar-wai retro open up at the Anthology.
August 6-8 has Akira Kurosawa's THRONE OF BLOOD at the American Museum of the Moving Image.
August 13 gives you the annual Korean Film Festival in New York. The announced line-up so far is: THE CLASSIC, A GOOD LAWYER'S WIFE, H, IF YOU WERE ME, SINGLES, ONCE UPON A TIME IN BATTLEFIELD, MOPKO GANGSTER'S PARADISE, MUDANG, WILD CARD, SAVE THE GREEN PLANET and MEMORIES OF MURDER.
August 27 ushers in an enormous Godzilla retrospective at Film Forum featuring literally dozens (okay, a dozen) classic and contemporary Toho giant monster movies. Call them kaiju eiga, if you will, but don't blame us if someone beats you up for being a loser. More info:
http://www.filmforum.com/films/toho.html
October 2 sees a Shaw Brothers retrospective at Lincoln Center.
November 12 sees a contemporary Korean Cinema retro at Lincoln Center.
NOW PLAYING
Brooklyn Academy of Music
TOKYO STORIES: Yasujiro Ozu
July 6 - August 24
If it ain't Wong Kar-wai, it's Yasujiro Ozu. No other directors get as many retrospectives as these two. Good thing, or bad thing, there's no point in debating it, because there's no stopping it from happening. Case in point: BAM's enormous Yasujiro Ozu retrospective.
More info and details on the difference between EARLY SUMMER (1951), LATE SPRING (1949), and EARLY SPRING (1956):
http://www.bam.org/film/Ozu.aspx
Friday, July 9 @ 2, 4:30, 6:45 & 9PM
LATE SPRING (1949, Japan, 108 minutes)
Tuesday, July 13 @ 4:30, 6:45, & 9PM
WHAT DID THE LADY FORGET? (1937, Japan, 71 minutes)
Friday, July 16 @ 2, 4:30, 7 & 9:30PM
EARLY SUMMER (1951, Japan, 125 minutes)
Tuesday, July 20 @ 4:30, 6:45 & 9PM
BROTHERS AND SISTERS OF THE TODA FAMILY (1941, Japan, 102 minutes)
Friday, July 23 @ 2, 4:30, 6:45 & 9PM
THE FLAVOR OF GREEN TEA OVER RICE (1952, Japan, 115 minutes)
Tuesday, July 27 @ 4:30, 6:45 & 9PM
THERE WAS A FATHER (1942, Japan, 87 minutes)
Friday, July 30 @ 3, 6 & 9PM
EARLY SPRING (1956, Japan, 144 minutes)
Broadway Theater (Broadway and 53rd)
The hit British musical, BOMBAY DREAMS is chuffing along. But even a score by A.R. Rahman (including "Chaiya Chaiya" from DIL SE, and "Shakalaka Baby" from NAYAK), a role for Madhur Jaffrey, the biggest Indian cookbook writer in the West, and inflatable Ganesh statues (plus a big fountain) haven't saved it from almost unanimous critical slams. Yikes! I liked it, but I like Bollywood, and if you don't know Bollywood you probably won't like it, and who in the US knows much about Bollywood? Bolly-bummer.
Ticket info:
212-239-6200
Japan Society
SHARAKU (1995, Japan, 135 minutes)
Tuesday, July 13 @ 6:30PM
Director Masahiro Shinoda presents this film, starring Hiroyuki Sanada (TWILIGHT SAMURAI, ROYAL WARRIORS). He's a Kabuki actor who becomes a woodblock artist, famous for his portraits of…Kabuki actors! A meticulous recreation of the 18th Century theatrical world, and performances by many famous Kabuki actors, add to the fun. For more
info
:
ImaginAsian Theater
239 East 59th Street (at Second Avenue)
Okay, okay - it's the lamest name ever for a movie theater (see: it sounds like "Imagination") but it's also pretty darn ambitious: a new movie theater in Manhattan devoted solely to Asian film. The very best of luck to them and we hope all of our readers will support them and help bring Asian films to NYC on a regular basis. It opens its (hopefully) long life with:
THE ASIAN AMERICAN INTERNATIONAL FILM FESTIVAL
July 16 - 24, 2004
(also, there will be screenings at the Asia Society; and from July 30 - August 1 there'll be screenings at the Cinema Arts Center, in Huntington, Long Island.)
There's too many screenings and movies to list here, but some highlights (and lowlights):
Ann Hui's GODDESS OF MERCY is the opening film.
Bollywood's exceptionally huge hit KAL HO NAA HO
SWORD IN THE MOON, from Korea.
MEN SUDDENLY IN BLACK from Hong Kong.
TRAVELERS AND MAGICIANS from somewhere (it's supposed to be really good).
And the sublimely stupid BATTLEFIELD BASEBALL from Japan.
More info:
http://66.40.251.133/index.asp
Village East
SPRING, SUMMER, FALL, WINTER...AND SPRING (2003, Korea, 103 minutes)
Korea's bad boy director, Kim Ki-Duk (THE ISLE) returns with an atypically quiet film, shimmering with Buddhist calm. Highly acclaimed, the flick shows the passing of the four seasons at a floating Buddhist monastery. This movie has run in Manhattan and Brooklyn for almost four solid months. It can't be killed. Catch it at Village East, before it goes away.
Read reviews at:
http://www.mrqe.com/lookup?spring+summer+fall+winter+and+spring
Visit the movie's website at:
www.springsummermovie.com