December 15 - 22, 2005
HIGHLIGHT OF THE WEEK: Electric Shadows at the ImaginAsian. Don't confuse this with the movie of the same title that came out a few years ago. This film will break your heart in multiple places - an ode to film, to family and simply surviving. We showed it at our NYAFF fest last year and it scored around 80% excellent in the balloting.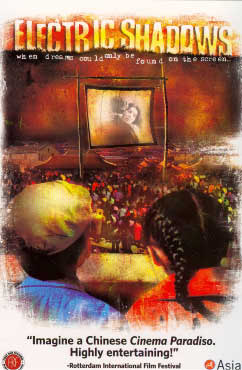 On TV this week: For those of you who are stuck to the TV and can't go out and see a movie, Risa Morimoto's Cinema AZN shows on AZN Thursday nights at 8. Tonight: an interview with Kim Ki-Duk. And DVD reviews. Last week's show will rerun at 8:30 and 11:30 with Roger Garcia's spotlight on Asian American Film Festivals including the New York Asian Film Festival, which is plain old Asian, none of this fancy Asian-American stuff. Plus interviews with Park Chan-Wook
COMING SOON
THE FILMS OF JOSEPHINE BAKER and ANNA MAY WONG
(February 18 - March 26, 2006)
A retrospective of two of Hollywood's first non-white stars out at the Museum of the Moving Image.
AGAINST THE TIDE: REBELS AND MAVERICKS IN CONTEMPORARY JAPANESE FILM
(April 2006)
No details yet, but sure to be a kooky treasure chest full of face-scorching, mind-bending Japanese films.
NOW PLAYING
BAM
HARDBOILED AND IN THE MOOD: TONY LEUNG RETROSPECTIVE
December 1 - 18 at BAM
This is the final weekend of this retro.
more info:
http://www.bam.org/film/series.aspx?id=52
This weekend: Wong Kar-wai-a-rama
CYCLO
Friday, December 16 @ 2, 4:30, 6:50 and 9:15
Tony goes to Vietnam and is sad and angry in this pretty movie. Not by Wong Kar-wai.
http://www.rottentomatoes.com/m/cyclo/
DAYS OF BEING WILD
Saturday, December 17 @ 4
One screening only of Wong Kar-wai's second movie which is very good but which only has a brief glimpse of Tony at the end (we'd later see Tony as this same character in IN THE MOOD FOR LOVE).
read a review:
http://brns.com/pages/wkwai5.html
IN THE MOOD FOR LOVE
Saturday, December 17 @ 6
Tony from the end of DAYS OF BEING WILD, all grown up and looking for romance.
read a review:
http://brns.com/pages4/wkwai8.html
2046
Saturday, December 16 @ 8
The last part of Tony's unofficial trilogy finds his characters, first glimpsed back at 4 o'clock, now old and bitter.
read a review:
http://www.metacritic.com/film/titles/2046
HAPPY TOGETHER
Sunday, December 18 @ 2, 4:30, 6:50 and 9:15
One of the best romances ever made, Wong Kar-wai, Tony Leung and Leslie Cheung in a shimmering queer love story that'll blow your socks off, among other things.
read a review:
http://brns.com/pages3/wkwai6.html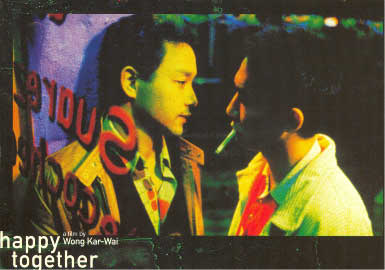 ImaginAsian Theater
(239 East 59th Street, btwn 2nd and 3rd Ave)
MAREBITO (2004, Japan, 102 minutes)
Daily @ 10pm and 12am
Between JU-ON and THE GRUDGE, Japanese horror savant, Takashi Shimizu, tossed off this H.P. Lovecraft meets J-horror doodle starring Shinya Tsukamoto as the freelance cameraman who finds his way into the secret cities underneath Tokyo and steals a naked vampire-ette.
At this year's festival the audience was split between people who loathed this flick and people who loved it. read more:
http://www.subwaycinema.com/frames/nyaff05-marebito.htm
read reviews:
http://www.metacritic.com/film/titles/marebito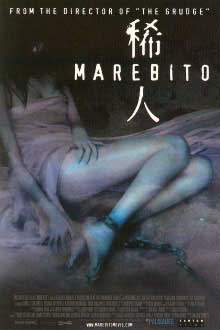 BLUFFMASTER (India, 2005)
Daily @ 7pm
No one knows much about this much-hyped Bollywood comedy, not even whether or not it's opening today. Big budget, starring Abhishek Bachchan, you take your chances with this one. The one thing for sure is that they spent some money on it.
more info:
http://glamsham.com/movies/scoops/05/dec/10bluffmaster.asp
ELECTRIC SHADOWS
Daily at 12, 2, 4, 6, 8
This lush, multi-generational saga from China about loving movies is a lot better than it sounds.
Read a review:
http://www.subwaycinema.com/frames/nyaff05-electric.htm
INITIAL D
Starts December 30
This summer's biggest comic book hit all over Asia is a car racing movie that sucked money out of pockets faster than a speeding Mazda.
Read a review:
http://www.kaijushakedown.com/2005/08/initial_d_revie.html
Korean Cultural Service
The Korean Cultural Service presents monthly video projections of independent and mainstream movies.
A TALE OF CINEMA (2005, Korea)
Thursday, December 29 @ 6:30PM
Hong Sang-Soo's art film has gotten good reviews all over the place. If you're a fan, you'll be there.
Read a review:
http://www.hollywoodreporter.com/thr/reviews/review_display.jsp?vnu_content_id=1001221699
Loew's State
NEAL N' NIKKI (India, 2005, 101 minutes)
Daily @ 6:40 and 9:50
This time out of the gate, Yash Raj, India's Walt Disney of slick, well-produced family films, has gotten racy. Set in Vancouver, it's about young people hooking up, making out, and singing and dancing.
read a review:
http://www.apunkachoice.com/scoop/bollywood/20051210-2.html
EK AJNABEE (India, 2005, 142 minutes)
Daily @ 6 and 9:20
One of Bollywood's last big movies of the year looks like a doozy: starring Amitabh Bachchan in a riff on MAN ON FIRE (burnt-out bodyguard kills thousands while protecting innocence of little girl), shot in Bangkok and with action by Seng, a Thai stunt choreographer who did the tuk tuk chase in ONG BAK and did stunts in BORN TO FIGHT, the eye popping action flick from Panna Ritthikria, Tony Jaa's mentor.
See the trailer:
http://www.ekajnabee.com/flash.htm
Museum of Modern Art
EARLY AUTUMN: MASTERWORKS OF JAPANESE CINEMA FROM THE NATIONAL FILM CENTER, TOKYO
September 14 - January, 2006
Japan's National Film Center opens its archives and releases 53 prints of some of Japan's classic must-see films.
Full listings:
http://www.moma.org/exhibitions/film_media/2005/japanese_cinema.html
BRIGHT STARS, BIG CITY: Chinese Cinema's First Golden Era 1922-1937
December 2 - 22
A shockingly complete retro of early Chinese silent and sound cinema, mostly from Shanghai, the cradle of Chinese film. I can't say much more about it, except go check out what they're showing. It's pretty intense:
http://www.moma.org/exhibitions/film_media/2005/Chinese_cinema.html
TWO BOOTS PIONEER
MALEVOLENCE AND SWORDFIGHTING DOUBLE BILL
RASHOMON (Japan, 1950, 89 minutes)
SEVEN SAMURAI (Japan, 1954, 207 minutes)
Thursday, December 22 @ 6:30pm
Wednesday, December 28 @ 6:30pm
For the lonely people who don't have enough to do at Christmas here's Uncle Akira to make all your troubles go away with his two most famous movies.
more info:
http://www.twoboots.com/pioneer/
Links
Archives

This is really, really simple, but - as a service to those who like their hand held - we're gonna spell it out...


TO BE NOTIFIED OF UPDATES TO THIS SITE (approx. once per week)

1) Print this page and then Click Here. This will take you to a new page.


2) Enter you email address in the space designated and click ENTER or OK or GO or whatever
the heck the button on that page says.


3) This should result in two things happening.

First, your browser should change to a message reading:

"Thank you! You will receive an email shortly with instructions on how to confirm
and complete your subscription. You will not be subscribed until you click on
the link in that email. Thanks!"

Secondly, as stated above, you should receive an email in your inbox.
It will be from the following address: listapp-subscribe-bounce@www.server.com


4) Open that email and click on the link within (or cut and paste the listed URL into your browser).


5) This will result in your browser opening to the following message:
"Success! You should begin receiving your weekly Subway Cinema News shortly!"


6) That's it!



© 2000-2005 Subway Cinema. All Rights Reserved.