May 6 - May 13
It's either a good week or a bad week for Asian cinema in NYC, depending on which way you're squinting. A ton of new movies are out! They're in general release! They're getting treated like real movies! Unfortunately, they're all movies that are old news in their countries of origin and they should have been released here a long time ago. But who's complaining? Well, I just was, but then again, that's the attitude Asian film fans have: they're on fire, they beg to be put out, you throw some water on them and then they say, "What? Poland Springs? You couldn't afford a little Evian?"
COMING SOON:
A Takeshi Kitano retrospective at the American Museum of the Moving Image starts May 15.
A Wong Kar-wai retrospective at BAM starts May 14.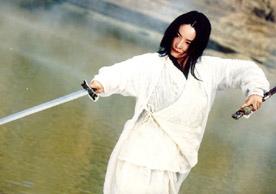 PEDICAB DRIVER, starring Sammo Hung, is on May 30 (Memorial Day!) at 4PM at the Anthology Film Archives.
Subway Cinema's New York Asian Film Festival kicks off June 18.
At the end of this newsletter you can find out details on how to purchase an ad in this year's program!
NOW PLAYING
American Museum of the Moving Image
CINEMA INDIA! SHOWCASE 2004 FILM SERIES
This touring Indian film series starts off at the Asia Society, and then moves to the AMMI for the following screenings (full description of program is in the listing for the ASIA SOCIETY).
DILWALE DULHANIYA LE JAYENGE (1995, India, 189 minutes)
Friday, May 14 @ 7:30PM
They're calling it THE BRAVE HEART WILL TAKE THE BRIDE but millions of Indians call it DILWALE DULHANIYA LE JAYENGE (or DDLJ) and they should know: it's currently the longest-running Bollywood movie ever made (still playing) and while it looks a little crude, it's got the same charm as a lot of those "I love it for no real good reason" Western classics like THE SOUND OF MUSIC or SEVEN BRIDES FOR SEVEN BROTHERS. Plus, it stars Shah Rukh Khan (yay! The biggest stud in Bollywood, and inheritor of the Cary Grant Crown of Manliness now that Chow Yun-fat has gotten pudgy). Check out MAIN HOON NA at the Loew's State theater, it's the latest big film from Bollywood and Shah Rukh is there, too...and he hasn't aged!

Angelika Film Center
OASIS (2002, Korea, 132 minutes)
Opens May 7
Lee Chang-Dong's exquisitely painful story of a guy who gets out of prison and falls in love with a girl who has cerebral palsy, is at the Angelika. There's nothing bad to say about this movie, and apparently Italians thought so, too, since it won "Best Director" at the Venice Film Fest in 2002. The thought of the goatee-stroking, espresso-drinking, corduroy-wearing Angelika audiences getting their skulls blasted open by this toxic love-bomb just gets me giggly.
read a review:
http://www.offoffoff.com/film/2003/oasis.php
SPRING, SUMMER, FALL, WINTER...AND SPRING (2003, Korea, 103 minutes)
Korea's bad boy director, Kim Ki-Duk (THE ISLE) returns with an atypically quiet film, shimmering with Buddhist calm. Highly acclaimed, the flick shows the passing of the four seasons at a floating Buddhist monastery. Sony Pictures Classics is releasing the film at Lincoln Plaza Cinemas (Broadway, between 62 and 63 Streets) and the Angelika Film Center.
Read reviews at:
http://www.mrqe.com/lookup?spring+summer+fall+winter+and+spring
Visit the movie's website at:
www.springsummermovie.com
Anthology Film Archives
THE CLAY BIRD (2002, Bangladesh, 98 minutes)
Monday - Friday @ 7PM & 9:15PM
Sat - Sun @ 4:45PM, 7PM & 9:15PM
Ends May 13
Set in the 60's, a young Islamic boy is drawn to the Hindu customs in his village. Bad move. Dad sends him to a hardcore Islamic school, and then the whole country breaks apart into civil war. I bet that kid feels like it's all his fault...and maybe it is.
more info:
http://www.anthologyfilmarchives.org/filmschedule.html#WPP
A review here:
http://www.filmthreat.com/Reviews.asp?Id=6016
Broadway Theater (Broadway and 53rd)
The hit British musical, BOMBAY DREAMS is now open. But even a score by A.R. Rahman (including "Chaiya Chaiya" from DIL SE, and "Shakalaka Baby" from NAYAK), a role for Madhur Jaffrey, the biggest Indian cookbook writer in the West, and inflatable Ganesh statues (plus a big fountain for a wet saree number) haven't saved it from almost unanimous critical slams. Yikes! I liked it, but I like Bollywood, and if you don't know Bollywood you probably won't like it, and who in the US knows much about Bollywood? Bolly-bummer.
Ticket info:
212-239-6200
Columbia University
GODZILLA CONQUERS THE GLOBE: Japanese Movie Monsters in International Film Art
C.V. Starr East Asian Library
A big exhibition of GODZILLA film materials from around the globe. For exhibit times and how to get to the library and find the exhibit please go to the website listed below. Check out the website anyways, because if you can ignore the goofy picture of Godzilla (who looks more like the Loch Ness Monster here) you can also see a map and a case by case listing of every single object in the exhibit. And, apparently, the exhibit is BYOED (Bring Your Own Exhibit Descriptions) so make sure you print out the website as there's almost no signage at the library.
The exhibit extends through three rooms on two different floors; part of it is in the Main Reading Room of the Starr Library, which is open all day during the academic term, but the other two rooms are open only M-F 9AM - 1PM. Curated by Prof. Gregory M. Pflugfelder, who deserves a Nobel prize for his Godzilla scholarship, it'll run through May 15, and the good Prof. Pflugfelder (is that a made-up name?) is organizing a Godzilla symposium for the Fall. A Godzilla symposium?!? Could we possibly live in a better world?
more info:
http://www.columbia.edu/cu/ealac/dkc/calendar/godzilla/
Film Forum
GODZILLA (1954, Japan, original running time...plus 40 more minutes!)
May 7 - May 20 @ 1:10PM, 2PM, 3:15PM, 4PM, 5:30PM, 6PM, 7:30PM, 8PM, 9:40PM & 10PM (whew!)
Ends May 20
It's Godzilla's 50th birthday, and not only is Ryuhei Kitamura (see AZUMI at this year's NYAFF) shooting the latest (and supposedly last) Godzilla flick in NYC this summer, but Film Forum is showing a new 35mm print, with new footage, no Raymond Burr, and new subtitles. Godzilla (let's just call him "God") deserves it. It's old and it's in black and white, but so's CITIZEN KANE...and Godzilla's taller.
more info:
http://www.filmforum.com/films/godzilla.html
Japan Society
BLUE
Friday, May 7 @ 6:30PM
Another film in the Society's "From Manga to Eiga" series, BLUE is, in the words of the program notes "...a delicate teenager drama of angst and pleasure." Whoa. That sounds like the kind of thing that can get you arrested if the Feds find it downloaded on your hard drive. Fortunately (or unfortunately) the movie is actually a coming of age story based on Kiriko Nananan's manga.
more info:
http://www.japansociety.org/events/event_detail.cfm?id_event=281893481&id_performance=1014379021
FANCY DANCE
Wednesday, May 12 @ 6:30PM
This "From Manga to Eiga" series just won't stop. Here comes FANCY DANCE, the super-popular story of a wannabe rock star (currently a college student) who has to become a Zen monk for a year in order to grow up and manage his dad's temple one day.
more info:
Here
Landmark Sunshine Cinema
TWILIGHT SAMURAI (2003, Japan, 130 minutes)
check theater listings for showtimes
Japan's revamp of the samurai genre became a big hit back home, and it exudes a corroded, corrupt, genre atmosphere. It does for samurais what Clint Eastwood's UNFORGIVEN did for cowboys. Don't miss it.
read a review at:
http://www.midnighteye.com/reviews/twilsamu.shtml
Loew's State Theater
MAIN HOON NA (2004, India)
Showtimes @ 12PM, 2PM, 4PM, 6PM, 8PM & 10PM
The first big Bollywood film of the year (it is breaking all sorts of attendence records back in India) hits the screens, and how! It's veteran choreographer, Farah Khan's, directorial debut starring Shah Rukh Khan, Sushmita Sen and Amrita Rao. A terrorist plot somehow requires SRK to go to college, wear nerdy clothes and romance a teacher, and the fate of Indian/Pakistani relations hangs in the balance. A big ol' masala, it's a throwback to the wonder years of Bollywood when every movie tried to appeal to every filmgoer. It is a huge amount of crazy fun that can make your head spin with its rat-a-tat genre shifting.
read a review:
http://www.indiafm.com/reviews/04/mainhoonna/index.shtml
Museum of Sex (233 Fifth Avenue @ 27th Street)
SEX AMONG THE LOTUS: 2500 YEARS OF CHINESE EROTIC OBSESSION
Opens March 18, 2004
I don't know if I'd call it obsession (that's a little pejorative) but there's a long tradition of Chinese erotica and this exhibition has got it all on smutty display: from dirty Bronze Age tomb tiles, to the last skin mags. Better yet, it's sponsored by Tiger Beer, which is kind of cool. Do you see Anheuser-Busch sponsoring displays of American pornography? Uh, I mean, erotica? It's especially heartening to see this exhibit open on the heels of Hong Kong Penthouse magazine closing up in March 2004.
Tickets are $14.50 (plus tax) and $13.50 (plus tax) for students and seniors.
info: (212) 689-6337
Tix: (866) 667-3984
more info (Internet Explorer only):
http://museumofsex.com/exhibitions/lotus/index.html
Tribeca Film Festival
Nine Asian films and the new Olsen Twins movie? I am so there. Below is the screening schedule for Tribeca's five Asian titles that I've heard of (okay, I haven't heard of GREEN HAT, but I've long thought that cinema had shied away from the tough subject of green headgear for far too long - cowardice, I call it - so this is a welcome relief) are listed below. All shows are $10. Which is a bit high when you consider that their budget this year was $15 million. But I guess the poor innocents of Tribeca have suffered from too much neglect, and they need you, the filmgoer, to give them $10 so that they don't lose their lofts and bistros which are, thanks to terrorists, in dangerous risk of being taken away.
A Tale of Two Sisters
South Korea
2003, 115 min
Sat, May 8, Midnight UA Theater 10
Zatoichi
Japan
2003, 110 min
Fri, May 7, 6:00pm Pace University
Sun, May 9, 1:00pm UA Theater 6
The Green Hat
China
2003, 120 min
Sun, May 9, 3:00pm UA Theater 11
Last Life in the Universe
Thailand
2003, 112 min
Sat, May 8, 8:30pm UA Theater 11
For more details, and other Asian films (there's five others in their line-up)
go to:
http://www.tribecafilmfestival.org/
UA Union Square Stadium 14 (on the corner of 13th St. & Broadway)
SHAOLIN SOCCER (2002, Hong Kong, 87 minutes!?!)
check theater listings for showtimes
Stephen Chiau's comic masterpiece is released by Miramax after dozens of delays. The ads paint it as a straight-up chop socky flick, but this is one of the funniest movies ever made and Chiau makes his bid for comic immortality with this deadpan, absurd heroic ballad of a film.
more info:
http://www.metacritic.com/film/titles/shaolinsoccer/

OUT OF TOWN!
TWILIGHT SAMURAI is spreading across America like the Blob. It'll be opening at the following theaters on May 7:
JACOB BURNS FILM CENTER in Westchester
CINEMA ARTS CENTER in Suffolk
CLAIRIDGE CINEMA 6 in Montclair, NJ
*Special Programs*
Iona Rozeal Brown
Through June 13th @ Wadsworth Atheneum Museum of Art, Hartford, CT
Brown's disturbing artwork parodies the Japanese craze for African-American culture known as ganguro. How does she parody it? She does paintings that look like 17th Century Japanese woodblocks prints...but in blackface. It's kind of interesting and kind of creepy.
Place you Ad in the NY Asian Film Festival Program!
The NY Asian Film Festival is currently selling ads for its glossy full-color, 8.5" x 5.5" program. Be the first on your block to purchase one!
What could be better than advertising in this year's program and thus helping your own company and also supporting Subway Cinema and Asian films at the same time. There will be approximately 45 screenings and we hope lots of people attending the films.
And what does it cost you might ask? The best bargain in town!
Full Page (8.5" x 5.5") - $700
2-Page Spread - $1,300
Inside Front Cover - $800
Inside Back Cover - $800
Back Cover - $900
Half-Page (4.25" x 5.5") - $400
Quarter-Page (4.25" x 2.75") - $200
If you are interested in purchasing an ad, please send an e-mail to:
brian@subwaycinema.com
Links
Archives

This is really, really simple, but - as a service to those who like their hand held - we're gonna spell it out...


TO BE NOTIFIED OF UPDATES TO THIS SITE (approx. once per week)

1) Print this page and then Click Here. This will take you to a new page.


2) Enter you email address in the space designated and click ENTER or OK or GO or whatever
the heck the button on that page says.


3) This should result in two things happening.

First, your browser should change to a message reading:

"Thank you! You will receive an email shortly with instructions on how to confirm
and complete your subscription. You will not be subscribed until you click on
the link in that email. Thanks!"

Secondly, as stated above, you should receive an email in your inbox.
It will be from the following address: listapp-subscribe-bounce@www.server.com


4) Open that email and click on the link within (or cut and paste the listed URL into your browser).


5) This will result in your browser opening to the following message:
"Success! You should begin receiving your weekly Subway Cinema News shortly!"


6) That's it!



© 2000-2005 Subway Cinema. All Rights Reserved.